Have you ever wondered which Sphygmomanometer or Blood Pressure Machine is right for you?
Using a sphygmomanometer to take a patients' Blood Pressure during a patient visit to your medical practice is a common occurrence. But are you using a sphygmomanometer that you understand or know how to operate? There are many Blood Pressure devices on the market with many brands to choose from; Omron, Welch Allyn, Heine, Mesi and Spacelabs. Then there is the choice of manual or digital, also are you after a 24hr Blood Pressure machine or a single measurement? Which size cuffs should you have on hand? How much do they cost?
We will be tackling all these questions in this article to help you identify which sphygmomanometer is right for you and other Healthcare Professionals at your surgery.
Should you consider a manual or an automatic Blood Pressure machine?
Every surgery should always have a manual sphygmomanometer or blood pressure machine, this is a good habit to have as it will serve as a backup if nothing else. However it really is about personal preference here. Most medical practices prefer to use an automated sphygmomanometers because of the simplicity and ease of use. These are also digital in their opperation and depending on the model you purchase or have, the accuracy is excellent as well.
Digital blood pressure machines inflate the patient cuff automatically and work at the push of a button.
Manual blood pressure machines require the healthcare professional to manually pump up the bulb to inflate the patient cuff. Then you will manually have to calculate the patients' blood pressure.
What is the difference between a 24hr Blood Pressure Machine and a single measurement or standard sphygmomanometer?
Ambulatory 24-hour blood pressure machines (ABPM) are a fantastic tool and we do recommend one in each surgery. These sphygmomanometers assist healthcare professionals in diagnosing and potentially treating hypertension. The major difference between the ABPM and the single measurement sphygmomanometer is that the ABPM measures the hypertension in a patient over a period of day(s) providing the healthcare professional with more data to make diagnosis and work through a treatment.
Another major difference is the price. The single measurement blood pressure machines are not as expensive as the ABPM devices. The ABPM devices start at around $3,000 AUD while the single measurement sphygmomanometers start at around $100 AUD for digital and $50 AUD for manual. You will definitley need a sinfle measurement device, the ABPM is optional, we recommend that you make your decision based on the quality of the device and estimated number of uses instead of price.
Here is the Hill Rom / Welch Allyn ABPM-7100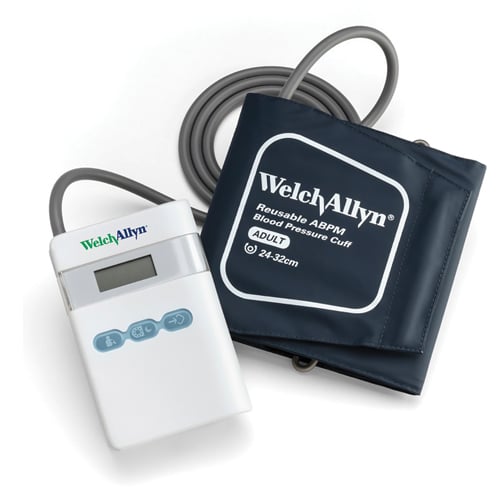 How much should you spend on a good Blood Pressure machine?
Regarding digital sphygmomanometers, personal preference here is the key, while Omron are the market leaders in a standard sphygmomanometer, there are also other options to consider like Hill Rom Welch Allyn. The most popular Omron blood pressure machine is the HEM-907 which is Australias best selling blood pressure device for medical centres. It retails around $650, and it includes a small, medium and large cuff, rechargeable batteries and an AC adapter. While the Hill Rom / Welch Allyn ProBP 3400 would be our choice, not just because it is small and fits into the palm of your hand, but because it uses Hospital Grade SureBP™ technology which enables fast and accurate 15 second blood pressure readings to improve patient comfort. It can also obtain accurate readings and minimises error codes even in the presence of patient motion and or weak pulses. It is fully compatible with blood pressure cuffs ranging from small child size (12cm) to thigh size (55cm). Its Lithium ion battery delivers 100 readings on a single charge with rapid charging time. It also is Mercury and Latex free to ensure patient and clinician safety.
Here is the Hill Rom / Welch Allyn ProBP 3400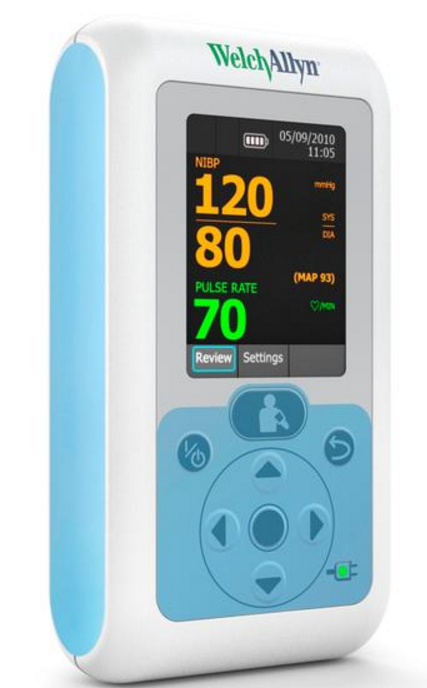 When it comes to manual blood pressure machines, you do have many options to choose from here. Though we recommend that you choose a trusted brand as it will provide the most accuracy. Heine manufacture the Gamma range of manual sphygmomanometers and would be our choice. They start at $170 AUD for the Gamma G5®, $200 AUD for the Gamma GP®, $250 AUD for the Gamma G7®. If you prefer a wall or table version then they have the Gamma XXL® which starts at $300 AUD. The Heine Gamma range is our pick for a manual sphygmomanometer as they are Latex-Free, feature an exclusive air-release valve, provide fine and precise air release rate adjustment options, quick deflation button, extreme durability, a rubber-stop prevents valve-lock, exceptionally strong housing constructed with shockproof movement in mind, pressure-proof manometer come with easy-to-read 56mm diameter scale plus a large bulb for fast inflation of the cuff.
Here is the Heine Gamma G5®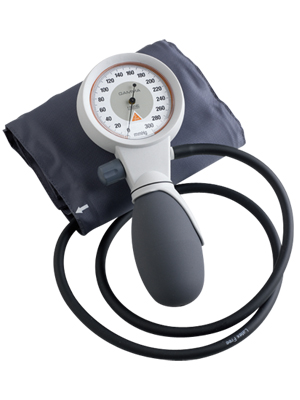 Which cuff sizes should I have on hand in the practice?
There are again two different options to choose from here, re-usable cuffs and single use disposable cuffs. Generally, most medical centres opt for reusable cuffs as these are much more economic and cost effective. However in recent times we have seen many medical practices choose to use the disposable cuffs as this will reduce the risk of infection and cross patient contamination. While disposable cuffs are more expensive than reusable, there are some very good options that help to make sure you don't blow the budget. Hill Rom / Welch Allyn have a range called FlexiPort®. The single-point FlexiPort connection is the main feature here as it enables virtually any device to work with Welch Allyn FlexiPort blood pressure cuffs. The range is available in a wide selection of sizes and many different traditional connector options to choose from. This is highly recommended if you want to reduce cross contamination amongst patients.
In your practice, you will get many different patients from small children to larger adults. This means that not 1 cuff size will fit them all. The cuff needs to be able to wrap around the patients arm and still be within the allowable zone as marked on the cuff. If the cuff is too small, then use a size up. This will give you not only a better reading but will also be more comfortable for the patient and increase the life of your sphygmomanometer. Depending on the brand that you chose, there are many different options to choose from in terms of size. Typically most medical centres will carry a small, medium and a large cuff with each blood pressure machine they have. Then carry only two different sizes of the larger adult size cuffs in the Treatment room, in case you need them.
Typical sizes for cuffs are:

Small (Child): 17-22cm
Medium (Small Adult): 22-32cm
Large (Adult): 32-42cm
Extra Large Cuffs range between: 42-55cm
What are some other features that I need to know or look out for?
Display sizes are important to take note of as it is very important to be able to see everything on a screen without having all the information crammed into a small screen. This makes reading the device much easier, imagine performing this test on 100 patients and having to squint to see the screen...not very pleasant.
Memory is important, you want the blood pressure machine to record as many readings as possible. Best practice of course is to enter the patient data straight into your patient management system, though having a good memory on the sphygmomanometer can help in case you forget.
If integration is important to you to centralise patient records then the Mesi BP device is the world class standard. You will need to also purchase a Mesi mTablet to link the BP device, though Mesi will enable you to integrate with Best Practice or Medical Director.
Calibrating your devices is essential to ensure that you have accurate readings each time. We recommend that you calibrate each year, each sphygmomanometer or blood pressure monitor that you have in your surgery. It is best practice.
You can read more on blood pressure and see our range here