Medical Weighing Scales - Which one should I choose?
Medical Grade Scales are everywhere, they are in medical centres, hospitals, aged care facilities and government sites. But, how can you tell if the scale is accurate and if you are using the correct scale? Surely we don't just jump onto a scale and believe what it says :) I know I have done that a few times though.
Depending on your medical facility and the types of patients you see, there are thousands of different scale options available for you to choose from. There are baby scales they come in both digital and mechanical or analogue; floor scales, again in both digital and mechanical or analogue, height column scales, again in both digital and mechanical or analogue, chair scales and full body composition scales. So which is the right choice for your surgery and patients?
Digital or Mechanical Floor Scales?
Typically you would need a combination of some of the above types, depending on your practice type. Generally though we see medical facilities order high quality digital scales more frequently than the mechanical or analogue. Brands like Seca and Soehnle are high reputable brands in the Australian markets and have an outstanding brand footprint in the international markets too. They both have high quality digital and mechanical scales to choose from. It is recommended that you calibrate your scales annually to ensure that they continue to read accurately and efficiently. Monitoring a patient's weight progress is very important and accuracy is the key here. Last thing you need is a scale that upsets a patient :)
Our top 3 digital scales would have to be:
1. The SECA 874Dr
2. The Soehnle Digital Personal Scale
3. The SECA Clara 803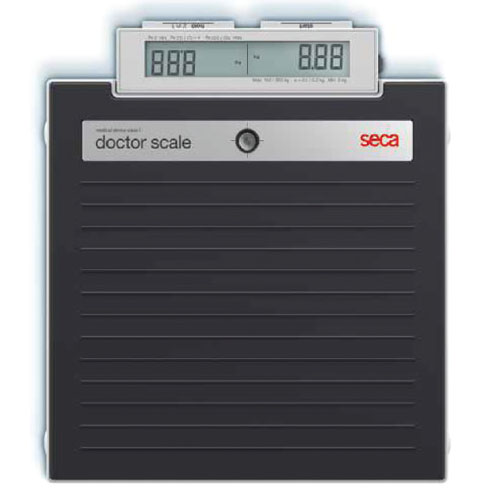 The Seca 874Dr is our primary choice and recommendation for any practice to have a least one in every surgery for accuracy and function. This scale is optimal in that it has all the features built into and its accuracy is very high as well. It is very user friendly and specially designed for use in medical practices.
Features:
This scale has a capacity loading of 200kg per user which means it can cover a large variety of patients
Graduation is very important and having a scale that has a graduation of 50 g < 150 kg > 100 g means that it is extremely accurate in monitoring and documenting patient's weight.
The dimensions of the scale are 321mm (Width) x 61mm (Height) x 361mm (Depth) so it will fit in perfectly into a Treatment room, Consult room or any other location in a medical setting.
6 batteries, type AA
Dual display for patient and doctor, so each can see the results independently and with ease
Mother/child-function, Auto-HOLD function allows the mother to step onto the scale, measure her weight then hold the baby and it will recalculate the baby's weight all on its own
It comes with 2 years warranty and best of all is designed by SECA so it is a very trusted brand when it comes to scales and measurement
A carry bag is optional for those that wish to take it with them if they make visits outside of the medical practice, the SECA 415 carry bag will fit this scale nicely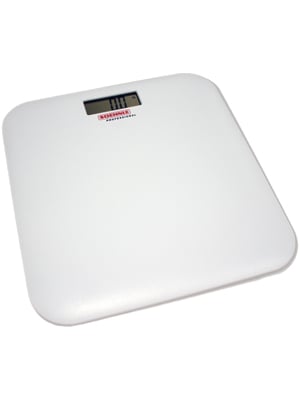 The Soehnle Digital Personal Scale is a very popular model. Made in Germany, this scale is outstanding as a base model. Highly affordable and a must have in every consult and allied health room. Under $120 this scale is fantastic if you are working towards a budget.
Features:
Simple to use design, sleek and white to match any decor
To turn the scale on or wake it up simply step onto the scale
Weight capacity of 180kg
It features an easy to read 26mm LCD display
The scale can display measurements in kg, lb, st. The setting is switchable at the bottom of the scale
The built in hold function will hold the weight on the screen for 6 seconds allowing the user enough time to see their results
It uses 1x CR2032 battery which is included with the scale
Auto-Turn off function will put the scale into sleep mode after 8 seconds
The SECA Clara 803 is an extremely popular scale at approximately $150AUD is an affordable medical grade scale from a leading brand like SECA. With the option of black or white, this is a perfect fit for a medical practice, surgery or facility.
Features:
Maximum weight capacity of 150kg will cover most patients at your medical practice
Increase in graduation by 100g each time so quite accurate
It is battery operated, so it can be mobile
Being a good size, this scale will fit in most locations at 316mm (Width) x 37mm (Height) x 326mm (Depth)
Total weight for this product is 1.5kg making it very easy to manoeuvre if required
It also is able to Auto-HOLD readings so that the user can view their results
It measures kg lb st with an easy switch-over to either of these measurements
Tap-on automatic switch-on when you step onto the scale
As well as an automatic switch-off function when not in use
Our top 3 mechanical scales would include:
1. Soehnle Mechanical Personal Scale
Digital is very accurate and more popular than mechanical scales especially if they are annually calibrated. However many customers still love the look and feel of the mechanical floor scale. The Soehnle Mechanical Personal Scale and the SECA 750 and SECA 762 are the most popular by far when it comes to a good quality, well-known brand of mechanical scales.
They all have a 150kg weight capacity and have graduation increments of 1kg at a time as well as all featuring a reset to zero function. Medial facilities choose these mainly for their looks and to aesthetically match their decor.
What should I look for in a good baby scale?
Baby scales are challenging in that they come in a variety of options again. However you really can't look past the SECA 354, SECA 334 or the premium SECA 333i with the optional measuring rod and digital display included.
This is the SECA 333i and the optional height measuring rod
The most common features to look for in a baby scale are:
The size of the scale, considering this is placed on a bench top for easy access to place a baby, size is an important factor.
The graduation is so much more important here as babies typically weigh under 20kg that would use this scale and minimal increments in weight can be significant when measuring babies. The SECA 345 & the SECA 334 both allow for 5g if under 10kg then 10g graduation if over 10kg up to 20kg. Whereas the SECA 333i allows for 5g graduation up to the maximum of 20kg weight limit making it superior here.
Another important feature is to make sure that your baby scale is designed with sides included on the scale, so that babies do not roll off the scale. Hence why it is important to consider SECA when purchasing a baby scale.
The SECA 333i has an optional height measuring rod, if included it will reduce the need for a separate height measuring rod.
Price is important to consider here too. The SECA 354 is the most affordable starting at $220 AUD, the SECA 334 is the midrange starting at $750 AUD. The premium SECA 333i starts at $1450 AUD and the optional height measuring rod starts at $630 AUD, however this does include all the below when purchased with the optional height measuring rod:

Comes complete with EMR technology
WiFi capable
Larger LCD displays
Includes head and foot positioners
Ergonomically designed to prevent the rod from tilting
Do I need a chair scale?
Chair scales have been around for quite some time certain Medical Practices keep one on hand, because they have a need based on a patient(s) requirement, typically though the chair scales are generally used in Hospitals, Aged Care facilities where they would be used much more often with less mobile patients. So based on your patients' needs and mobility you could decide if this is needed for you.
Patients that find it difficult to stand on a floor scale or are simply not able to are the primary users here. The chair allows for a patient to comfortably sit down, it measures the patient's weight and allows the doctor or nurse to read the results easily. Calibration of these units is more complex than a stand digital floor scale as it includes zeroing out the weight of the chair and checking its own mobility and functionality to meet the standards of the manufacturer.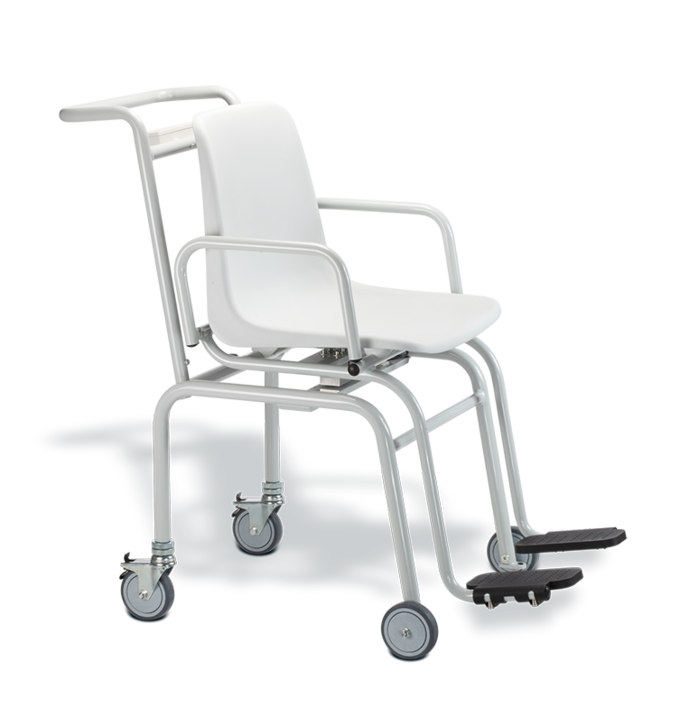 A base model like the SECA 952 is the minimum you would consider, starting at $1,800 AUD this chair scale will take a capacity of 200kg, has graduation of 100g, has the following functions: TARE, auto-HOLD, kg/lbs switch over, automatic switch-off and comes with 2 years warranty.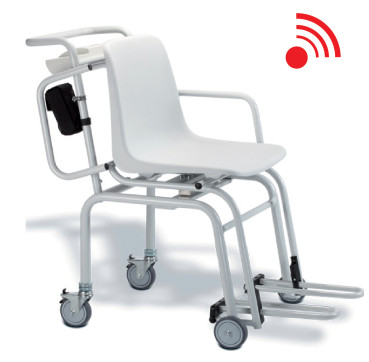 The premium model SECA 954 is a digital chair scale with wireless transmission. It has a maximum capacity of 300 kg, allows for graduation of 50 g < 150 kg > 100 g. It weighs 24.5 kg and needs to be wheeled around. The power supply enables the user to switch between a power adapter and rechargeable batteries. It transmits data via the SECA 360° wireless technology. It also includes the following functions: TARE, pre-TARE, HOLD, auto-HOLD, BMI, auto-CLEAR, lbs/kg switch-over, damping, automatic switch-off, SEND/PRINT. And also comes with 2 year warranty. This makes this chair scale a premium choice for Hospitals and Aged Care Facilities alike.
Are measuring stations the best scales?
Measuring stations are an all in one scale. They have a built in floor scale and display the measurement up high in front of the user. They can also include other functions like a height measure and some have the capability to calculate Body Mass Index (BMI). These measuring stations are typically found in Hospital and Super GP settings as they reduce space wastage by including many features all in one, though are typically more expensive than a premium digital floor scale.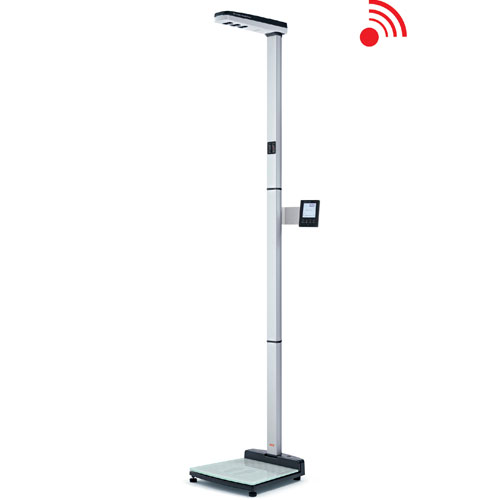 Some of the premium floor scales like the SECA 286 have the ability to integrate with certain patient management systems allowing you to take all different measurements like, weight, height and BMI all hands free via voice guidance and transmits over WiFi to the patient management system. There is also an optional printer which will print the results for the patient to keep as an added feature. This scale was designed with elegance, style and user-friendly concepts in mind. The starting price is $4,000 AUD, though totally worth the investment.
The SECA 286 features:
A digital floor scale with a whopping 300kg maximum weight capacity
Incremental graduation of 50g
Can measure patients between the height of 60-210 cm
The height measuring rod has a graduation of 1 mm
Ability to TARE, HOLD, auto HOLD, BMI, kg/lbs switch-over,
Its dimensions are 434 mm (Width) x 2270 mm (Height) x 466 mm Depth
Connects to EMR via wireless functionality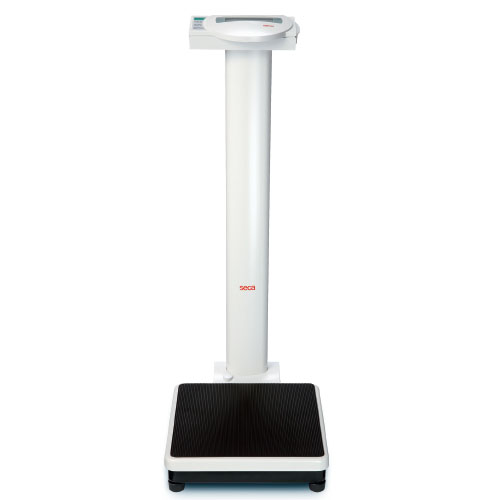 An entry model like the SECA 769 is a great fit if you are working with in a budget, it has all the major features that you would need and is very affordable starting at around $900 AUD. This SECA scale features:
A digital column scale with a maximum weight capacity of 200kg
Graduation of 100g increments
Ability to TARE, HOLD, auto HOLD, BMI, kg/lbs switch-over, automatic switch-off
2 year warranty
In our opinion the measuring stations are a complete package and are a must have for any Hospital, Medical Practice, and Aged Care Facility that wants to measure the complete body changes of their patients. There are many options to choose from, we recommend a digital option that fits with in your budget and has all the features to make your patients physical assessment seamless and easy.
Other great scales include the SECA Sensa 804 which is a floor scale with BMI capability, and the SECA 813 a favourite amongst floor scales.