Thermometers are such an essential tool for Healthcare Professionals to help monitor a patients temperature either as a snap shot of time, or over to monitor their temperature changes over a period of time. The technology in a digital thermometer has changed immensely over the last 100 years. Thermometers these days are capable of measuring temperature from a short distance, or measuring the temperature through the ear canal, rectum, armpit or mouth. With so many options which ones are right for your medical practice?
Which thermometer is the most accurate?
Brands such as Omron or Welch Allyn offer high quality digital thermometers and are in our opinion the most accurate when it comes to checking a patients temperature. A trusted brand is always the best way to go products like the Welch Allyn SureTemp Plus 692 is a high quality, very reliable hospital grade digital thermometer. Or the Welch Allyn Braun Pro 6000 Digital Thermometer which is the best seller into Medical Practices and Aged Care facilities in Australia. The Omron TH839s Digital Thermometer is a reliable alternative that won't break the bank and has many great features too.
While rectal thermometers are probably the most accurate, the ear thermometers are pretty close as they use tiny infrared sensors to measure the tympanic temperature in the patients ear, they are also more practical and this makes them more efficient.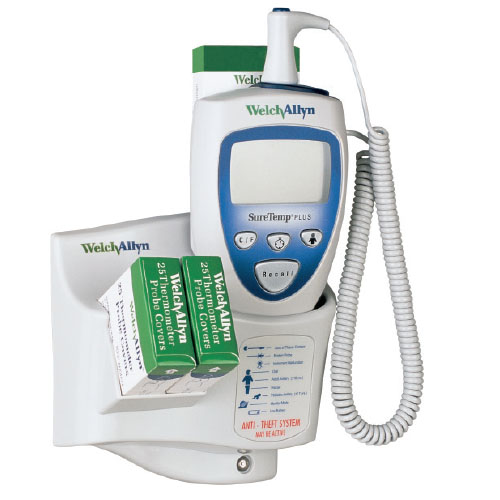 This is the Welch Allyn SureTemp Plus 692 Digital Thermometer which can be used orally or via the rectum, it is a premium model and commonly used in Hospital and other medical settings. It is so fast that it can capture temperature readings in 4 to 6 seconds orally, 10 to 13 seconds via the rectum or paediatric axillary and can capture temperature in 12 to 15 seconds in adult auxiliary. The removable or interchangeable probes are designed specifically to help your medical facility reduce the risk of cross contamination, thus increasing staff and patient safety.
It features:
Fast temperature readings: quickly captures accurate readings on all patient types
Includes a 60-second pulse timer for counting pulses and respirations
Mechanical and electronic security options to help prevent theft or loss
Takes approximately 5,000 readings on 3 AA batteries
Large backlit LCD display with location identification capability
Wall mount included with all configurations
Convenient storage for 25 probe covers
Interchangeable, removable wells to help reduce the risk of cross-contamination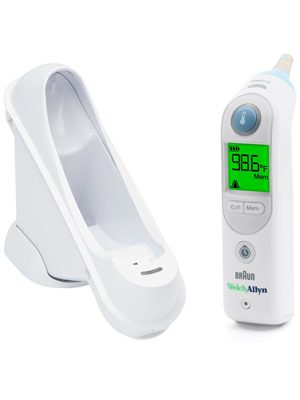 This is the Welch Allyn Braun Pro 6000 Digital Thermometer with a small cradle, it is designed for fast usage and quick, accurate readings of the patients temperature from their ear. It uses advanced measurement technology called PerfecTemp Technology, which overcomes the risk of low readings compared to the patients' core. It does this efficiently by adjusting factors that impact measurement accuracy. It has the speed and simplicity needed for any Healthcare professional to capture accurate and reliable temperature readings for patients.
It Features:
Innovative PerfecTemp™ technology adjusts for variability in probe placement
ExacTemp™ technology detects stability of the probe during measurement
Designed to take quick and accurate readings, to improve patient satisfaction
60 second pulse timer assists with manual measurement of pulse rate, respiration
Electronic security features help prevent theft, loss
Small or large cradles for probe cover storage that pop-up for easy attachment
Optional charging station stores 200 probe covers, with rechargeable battery
6- or 9-foot security tether options keep device attached to cradle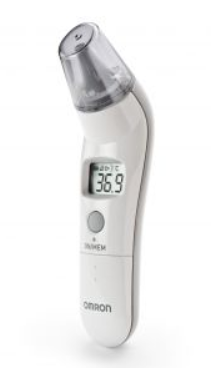 This is the Omron TH839s ear thermometer. Which is very affordable and is built by Omron. This digital thermometer is designed with an advanced infrared and ambient temperature compensation technology for instantaneous temperature diagnosis of patients or self. This is a thermometer that is commonly used at home but some practices do like it due to its cost effectiveness.
It features:
1 Second quick measurement
Fever Alarm with beeper for body temperature > 37.5oC (99.5oF)
Selectable oC or oF
9 sets of memory
Ergonomic design for easy handling
Compatible probe covers (TH839S/40)
3.0V DC, 1 CR2032 Lithium Battery
Are infrared thermometers a good option?
Infrared technology is actually used in most digital ear thermometers as well as in a hand held digital thermometer that take measurements from a short distance away from the forehead. However when most people talk about infrared thermometers they are referring to the non-contact thermometers that take a measurement of the patients temperature from a short distance.
These thermometers are a good option when other options like the ear, underarm, or rectal thermometers are not an option. This could be because of a pandemic like COVID-19 where close contact is not advised, or when it is simply to scan the temperature and an accurate recording is not needed. The IR thermometers work by using the infrared to capture the temperature of the skin, the trouble here is that they also can measure the air temperature between the skin and the hand held IR thermometer. This leads to a temperature reading that can be less accurate than ear, underarm and rectal thermometers.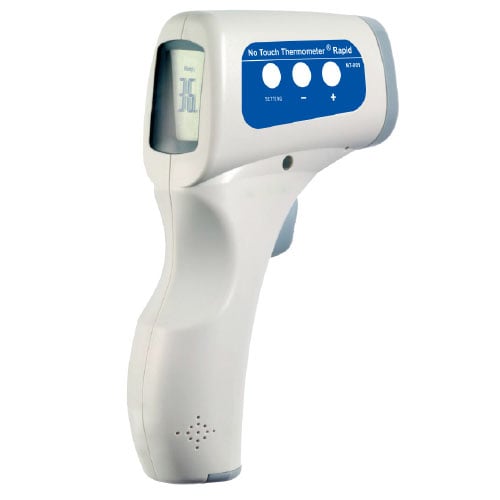 This is the NT-001 Rapid No-Touch thermometer is a good option to choose. It is TGA registered and is commonly used in medical practices. Since this device is non-invasive it is recommended that you measure the temperature of the skin from 3 to 5 cm away.
It features:
Results in one second
Backlit LCD screen
2 modes of temperature – body & surface
32 memory recall
Alarm for high temperature
User defined alarm setting
Automatic power shut down after 30 seconds
Operating room temperature range 10oC~40oC
2 X AA Battery included
12 month warranty
Are all thermometers the same?
With so many thermometers out on the market, we really only advise thermometers that are TGA registered and have proven test results that are recognised in Australia. There are many 'home use' thermometers that are good for just that, though would not be recommended for professional use as they don't always meet TGA requirements or have the accuracy needed in medical settings.
The main thermometers that we would recommend would be the Welch Allyn SureTemp Plus 692 Digital Thermometer, the Welch Allyn Braun Pro 6000 Digital Thermometer, the Omron TH839s or the NT-001 Rapid No-Touch Infrared Thermometer.
What is the difference between Infrared Thermometers and Ear Thermometers?
Considering the both use infrared technology in different ways the primary difference here is that the hand held infrared thermometer, also known as temporal artery thermometers, measures the skin temperature of patients, while the ear thermometer, also sometimes called the tympanic thermometer, measures the ear canal temperature of a patient using infrared technology. The second most difference between them is that the ear thermometer is more accurate and thus is preferred amongst the two in a medical setting.
Advantages of the hand held infrared thermometer:
1. Easy to use - All that is required is to point the infrared part of the thermometer at the patient, turn the device on, and press a button to scan the temperature.
2. Contactless readings - Being hand held and typically held at a distance of 3 to 5 cm away from the patients' forehead, this reduces the risk of cross contamination and thus the need for touching the patient during the process.
3. Faster to use - With no probe covers to use, there is no extra time required to set up the device, thus making the process faster for a temperature reading.
Disadvantages of the hand held infrared thermometer:
1. Varying Readings - Sometimes you may need to take multiple readings of a patients' temperature as different positions while holding the device to a patient may return slightly different results.
2. Heat sensitivity - Because you are measuring the skin from 3 to 5 cm away the air temperature in the room between the patient and the thermometer can sometimes be a variable which is hard to eliminate. Thus readings are not very accurate.
Advantages of the ear thermometer:
1. Fast readings - Good brands such as Welch Allyn and Omron invest a lot of research and development into their products and improve the technology, thus returning results in very fast times.
2. Accuracy - The ear thermometer is very accurate as it measures the ear canal of a patient via tiny infrared sensors. This returns a very reliable reading.
Disadvantages of the ear thermometer:
1. Invasiveness - The ear thermometer has to be inserted into the ear canal of the patient to gain an accurate result in temperature.
2. Costly - The ear thermometer is generally more expensive than the typical hand held infrared thermometer. This is due to buying a better brand which is more reliable, has more technology and provides more accurate readings. It is also typically medical grade.
3. Ongoing Consumables - It is highly recommended and in fact is best practice to use single use disposable ear probe covers with the ear thermometer. This reduces patient to patient cross contamination and is much cleaner. Though these do come at a small cost, but will not break the bank.