Choosing the Right Doctor's Bag

All healthcare professionals need a reliable doctor's bag, which is durable and can last for years without loosing shape or being ruined. Your doctor's bag should meet the criteria of longevity, resistance, functionality and capacity.
As a doctor, it's important to carry a range of lifesaving medical supplies and diagnostic tools and devices when you leave your clinic or hospital, for emergency and routine visits.
Vital Medical Supplies has a large range of medical doctor's bags tailored to specific requirements. Have peace of mind that you've got what you need in one handy place to carry out examinations and procedures when you're on the go.
Which Doctor's Bag Should You Choose?
The first decision you need to make is which type of doctor's bag should you choose? It needs to be sturdy, easily organised, large enough to carry what you need and lockable.
Medical doctor's bags are well organised with compartments for storage and to allow easy access to stationary, medical supplies, and equipment. The price of doctor's bags vary depending on what type you choose. A leather doctor's bag will be more expensive than a plastic fishing tackle box which is a more economical alternative. They come in a variety of sizes and small compartments to store all your medical supplies.
A doctor's bag is an important part of general practice equipment. Life saving and emergency medical supplies are necessary for every doctor's bag but each bag is customised to the GP's location and specific requirements. Practice nurses can play a role in ensuring the doctor's bag is kept well stocked and that medical supplies are in date.
The Bollmann Visita Doctor's Bag is a high quality leather doctors bag with adjustable inner dividers which make it the perfect companion for any doctor or healthcare professional who requires a medical doctor's bag for home visits or when they leave their medical practice.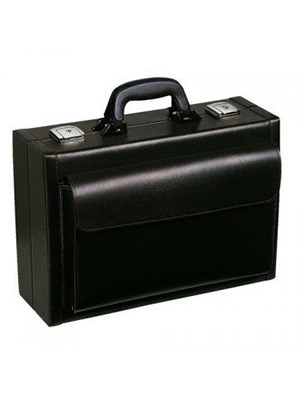 The Elite Trend's Leather Doctor's Bag has spacious internal compartments which are perfect for healthcare professionals that need a doctor's bag for home visits. Please note that the contents are not included.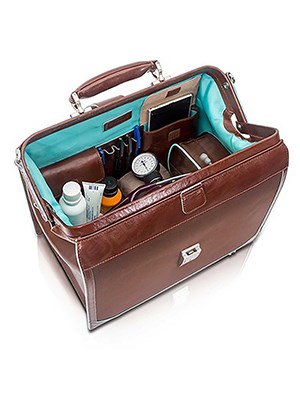 Suggested Contents of a Doctor's Bag
The contents of a medical doctor's bag will vary depending on your practice location (urban or rural) and what kind of visits you make. Below is a suggested list of contents that should be included in your doctor's bag.
Equipment

Gloves (sterile and unsterile)
Stethoscope
Sphygmomanometer
Auriscope/ophthalmoscope
Thermometer (not mercury filled)
Torch (and spare batteries)
Tongue depressors
Sharps container
Urinalysis strips
Pathology containers/blood tubes
Swabs
Syringes(1, 5, 10, 20 mL)
Needles (19, 21, 23 gauge)
Butterfly needles
Intravenous cannulae (16, 18, 20, 22 gauge and bungs)
Tourniquet
Normal saline flush
Scalpel
Equipment for maintaining an airway – Guedel (several sizes), Laerdal pocket mask
Dressing pack (steristrips, micropore tape, bandages, dressings)
Small sharps container (urine collection container can be used as temporary sharps holder)

Drugs The doctor's bag needs to contain in date drugs for medical emergencies
Stationery

Pens Prescription pads
Pathology and radiology forms
Medical certificates
Letterhead paper and envelopes
Admission forms
Progress notes
Medicare and accounting forms
Dangerous drug record book

It is also useful to carry:

Aspirin
Paracetamol or other oral analgesia
Antibiotic starter kits

Miscellaneous

Important telephone numbers
A copy of MIMS
List of dosages for emergency drugs including paediatric dosages
Doctor's Bag Tips
Check your doctor's bag monthly for expired or used drugs.
Replace used medical supplies on the day of, or day after use
Familiarise yourself with the contents of your doctor's bag. Label each compartment/section for ease of use in an emergency
Keep doctor's bag in a secure locked place
Newsletter
Please enter your email address to subscribe to our newsletters.