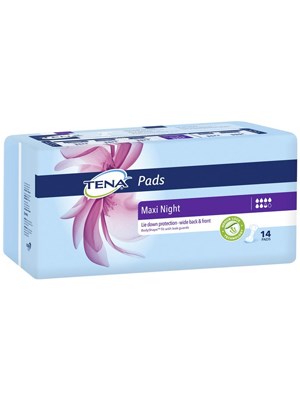 TENA® Pads Maxi Night Lilac 6.5 Absorbency Level - Ctn/3
RRP: $46.53
$39.49
inc GST
Save: $7.04
Code: BW2309017
Supplier Part: 2309017
Unit: ctn
TENA® Pads Maxi Night most absorbent pad is suitable for both day and night. Designed with extra length, anatomical shape, a Quick Dry™ layer to draw the liquid into the pad and away from the skin and anti-leak guards for superior lie-down protection, you can relax and enjoy your nights sleep.
Features & Benefits:
TENA Pads Maxi Night with Lie Down Protection offers superior night time protection. The extra length and width at the back for extra coverage prevents leaks when the individual is lying down and provides security and confidence all night long.
TENA Liners and Pads have Fresh Odour Control. Micro-fresh pearl design reduces growth of ammonia producing bacteria, which in turn reduces odour. This product offers discretion while providing comfort and dignity.
Triple Protection – Dry, Secure & Odour Control
All TENA Pads products offer the individual Triple Protection from leaks, odour and moisture. Helping the user to stay dry, secure and confident at all times, both day and night.
The Dry Fast Core locks away wetness for good
Dry Fast Core provides very effective leakage protection. The super-absorbents retain the urine, keeping it locked in and away from the skin.
TENA Pads Maxi Night is body-shaped for discretion and comfort
TENA Pads Maxi Night only offers protection, but comfort and discretion as well. The TENA Pads Maxi Night are body shaped, designed so that the individual feels at ease wearing protection.
Anti leak guards for leakage protection
Anti leak guards for your confidence day and night.
Extra gentle and dry Silky Soft Surface against the skin
Silky Soft Surface is designed with a smooth, gentle textile-like surface that instantly whisks away any moisture, leaving the individual dry and promoting good skin health.
Soft textile breathable material helps maintain healthy skin
TENA Pads has soft, breathable material that allows air to circulate and promotes healthy skin. The product's breathability improves user comfort and keeps the individual feeling dry and fresh.
Specifications:
Absorbency level: 6.5
UOM: Ctn/3 (42 pieces)
Image is sample of product
Request further information on this product
Newsletter
Please enter your email address to subscribe to our newsletters.