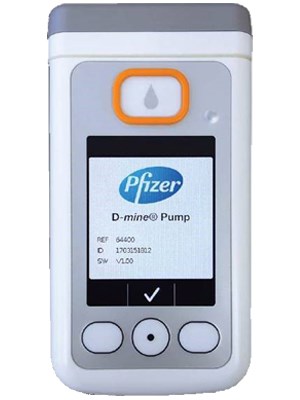 D-mine® Pump - General Purpose Infusion Pump
RRP: $4,276.80
$4,235.00
inc GST
Save: $41.80
Code: PF46049
Supplier Part: F000046049
Unit: box
Bulk Unit: 10 per box
Buy In Item
D-mine® Pump - General Purpose Infusion Pump
Continuous Infusion
Oral treatments cause pulsatile stimulation and contribute to "peaks and troughs" in blood plasma levels because of the blood-brain barrier. Continuous infusion of medication is the most rapid and efficient way of delivering a drug and ensures constant and consistent control.
The short and extremely fine needle of an infusion set is positioned into the subcutaneous fatty tissue of the belly just under the skin. The infusion set is connected with a small portable minipump and/or syringe-driver.
Pump Therapy
The pump system is easy to operate and set up.
For most patients, a full day's treatment can be set up. This enables patients to set the pump up in the morning (or have it set up by a carer) just once a day. Patients may get on with their daily activities without living after strict timetables.
Specifications:
UOM: Box/10
Image is sample of product.
Click here for D-mine® Pen PF37904
Request further information on this product
Newsletter
Please enter your email address to subscribe to our newsletters.