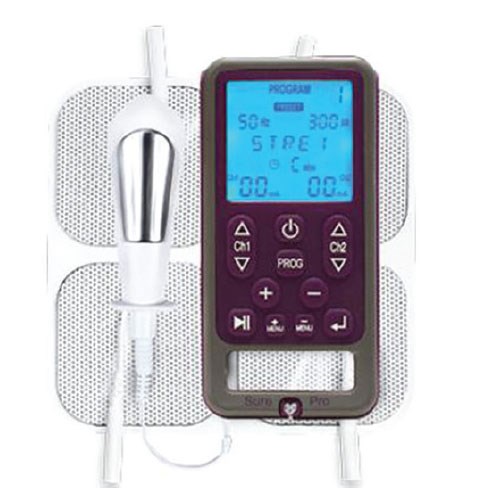 TENSCARE SURE PRO PELVIC FLOOR EXERCISER
RRP: $362.08
$307.32
inc GST
Save: $54.76
Code: K-SP
Supplier Part: K-SP
Unit: each
Buy In Item
An easy-to-use, flexible pelvic floor exerciser with a wide range of preset and manual programs - providing relief from stress, urged and mixed incontinence as well as improving sexual wellbeing.
Description:
Automatic keypad lock and manual program lock – to ensure your program doesn't change accidentally
Locking Lead Connection & Built-in Cable Tidy – ensures leads remain in place and out of the way
Open Circuit Detector – safety feature to prevent any sudden increases in stimulation
LCD Backlit Screen – easy-to-use, modern, colour screen enabling quick access and control
Optional Programs – 11 preset and 3 manual programs for optimal choice
Work/Rest Ratio Warning – to ensure you do not overwork your muscles
Comfortable Stimulation – gentle, comfortable stimulation with fine-tune adjustment settings for levels of intensity
Rechargeable Li-ion Battery – lightweight & compact with an external charger
Treatment Record/Memory Mode – Sufficient memory for a 90-day, daily treatment program
Dual Channel – 2 independent channels can be used with vaginal or anal electrodes, or 4 self-adhesive electrode pads.
This is the sample of the product.
The Sure Pro provides relief from 3 forms of incontinence:
Stress Incontinence: describes the involuntary leakage of urine when a person coughs, sneezes, strains or makes sudden movements. It is particularly common in women and occurs when the bladder neck and the other mechanisms that act to hold urine in the bladder are not working properly.
Urge Incontinence: describes an overactive bladder. A person may experience a strong and sudden urge to go to the toilet but are not always able to hold on, or have to go so frequently that it becomes inconvenient.
Mixed Incontinence: is a combination of both Stress and Urge Incontinence.
Advantages of using the Sure Pro:
It can reduce leakage – not simply contain it. Most women see significant results in as little as 3 weeks.
It is drug-free with no side effects.
It is easy to use with preset programmes to suit your needs.
It is discreet and can be used at home during your own time.
It may help to avoid surgery
It may improve sexual intimacy by toning your pelvic floor.
Request further information on this product
Newsletter
Please enter your email address to subscribe to our newsletters.