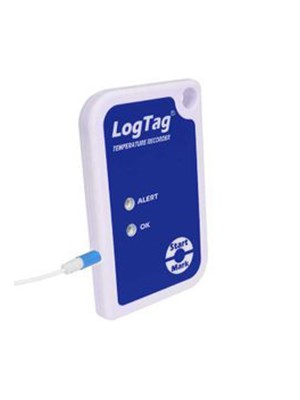 LOGGER REPLACEMENT TREX-8
RRP: $145.42
$143.75
Save: $1.67
Code: QRFLOGEXNP
Supplier Part: LOGEX_NP
Unit: each
LOGGER REPLACEMENT TREX-8
UOM: Each
Image is the sample of the product.
This is the perfect LogTag when you need to measure temperatures inside coolers, underwater or in small spaces. Great for monitoring internal temperatures of food.
Why use an external probe?
LogTags are tough and versatile, bu there are some places they just can't go.
In particular, when logging the temperature of liquids, you will need a probe. An example might be measuring the cooling rate of a large batch of custard.
Probes are also useful to monitor temperatures inside coolers and other containers without removing the lid.
Another use might be measuring soil temperatures. The probe is driven into the soil while the LogTag remains clean and protected above ground.
Product Model
TREX-8
External Sensor Measurement Range
-40°C to +99°C (-40°F to +210°F)
Operating Temperature Range
-40°C to +85°C (-40°F to +185°F).
Storage Temperature Range
-10°C to +55°C (14°F to +131°F).
Rated Temperature Reading Accuracy
Better than ±0.5°C for -10°C to +40°C.
Better than ±0.7°C for -10°C to -30°C and +40°C to +60°C.
Better than ±0.8°C for -30°C to -40°C and +60°C to +80°C.
Better than ±1.0°C for +80°C to +99°C.
Actual performance is typically much better than the rated values. Please see the Rated Absolute Accuracy chart below.
Accuracy figures can be improved by recalibration.
Rated Temperature Reading Resolution
Less than 0.1°C for -40°C to +40°C.
Less than 0.2°C for +40°C to +80°C.
Less than 0.6°C for +80°C to +99°C.
Please see the Rated Native Resolution chart below.
LogTag Analyzer® currently displays to one decimal place of °C or °F. The native resolution is what is stored in the LogTag®.
Sensor Reaction Time
Typically less than 2 minutes (T90) in moving air (1m/s) for ST100T, ST100H and ST100S types.
Recording Capacity
8031 temperature readings. 53 days @ 10min logging, 80 days @ 15min logging.
Sampling Interval
Configurable from 30 seconds to several hours.
Logging Start Options
Push button start or specific date & time. Optional start delay of up to 18 hours.
Recording Indication
Flashing 'OK' indicator / flashing 'ALERT' indicator.
Download Time
Typically less than 5 seconds for full memory (8031 readings), depending on computer or readout device used.
Environmental
IP61.
Power Source
3V Li-Mg Battery.
Battery Life
2 – 3 years of normal use (based on 15 minute logging, download data monthly).
Real Time Clock
Built-in real time clock.
Rated accuracy ±25ppm @ 25°C (equivalent to 2.5 seconds/day).
Rated temperature coefficient is -0.034 ±0.006ppm/°C (I.e typically +/- 0.00294 seconds/day/°C).
Standard Remote Sensor Cable Length
Standard: 1.5m (4'11″).
Extended: 3m (9'10″) (Recommended maximum).
Remote Sensor Cable Type
PTFE (FDA food contact rated), coaxial.
Size
86mm(H) x 54.5mm(W) x 8.6mm(T).
Weight
36g (without External Probe).
Case Material
Polycarbonate.
Request further information on this product