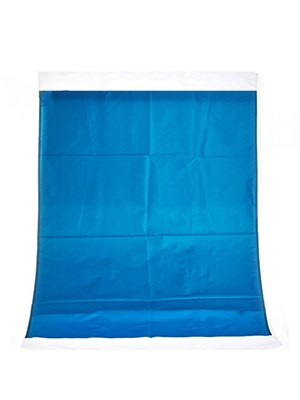 Silicone Polyglide Double Slide Sheet Blue - 135x190cm
RRP: $58.34
$36.80
inc GST
Save: $21.54
Code: CC01010
Supplier Part: XSCD179DB-C
Unit: EA
Silicone Polyglide Double Slide Sheet is a rectangular piece of sheeting made out of very strong but thin polyester fabric. As both sides are silicon coated this provides it's special slippery surface so the sheet slides easily in any direction on the bed.
The slide sheets should retain their slip for approximately 100 machine washes providing the washing guidelines are adhered too. The special coating that makes it's surfaces very slippery is designed to assist moving a person in bed with minimum trauma.
The slide sheet can be folded in half and semi positioned whilst the patient is lying on their side. It may be positioned under a draw sheet. The patient can then either be moved up the bed by carers on either side grasping the sheet and sliding sheet and patient up the bed; or the patient can be turned by pulling the loose end of the top part of the sheet.
Please note: Always use slide sheets in line with your occupational health and safety or manual handling guidelines. Never leave patients unattended on slide sheets and always use at least two qualified patient handlers to move patients.
Specifications:
Colour: Blue
Size: 135x190cm
Double polyester fabric
UOM: Each
Image is sample of product
Request further information on this product
Newsletter
Please enter your email address to subscribe to our newsletters.