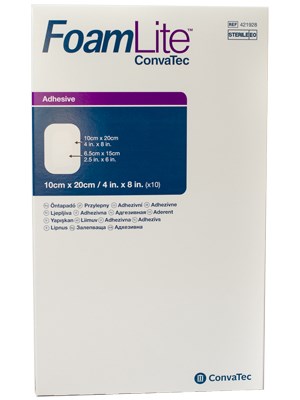 FOAM LITE 10x20cm - Box/10
RRP: $129.99
$110.33
inc GST
Save: $19.66
Code: CO421928
Supplier Part: 421928
Unit: box
Bulk Unit: 10 per ctn
FOAM LITE 10x20cm 10's
FoamLite™ ConvaTec dressings have been designed specifically for the management of low to non-exuding chronic and acute wounds.
FoamLite™ ConvaTec dressing is a thin foam dressing with a breathable film and perforated, gentle, skin friendly silicone adhesive.
FoamLite™ ConvaTec dressing is flexible and conforms to the body even in awkward locations.
Features and benefits:
Flexible and conformable
Viral and bacterial barrier
Can be cut to shape*
Soft, gentle and light
Adhesive does not stick to gloves or itself
Easy to apply, reposition and remove
Water/shower proof
Maximum recommended wear time 7 days*
Areas of use:
Acute, chronic, low to non-exuding wounds such as
skin tears
skin abrasions
partial thickness burns
* Please refer to FoamLite™ ConvaTec dressing package insert for complete instructions for use
Request further information on this product
Newsletter
Please enter your email address to subscribe to our newsletters.