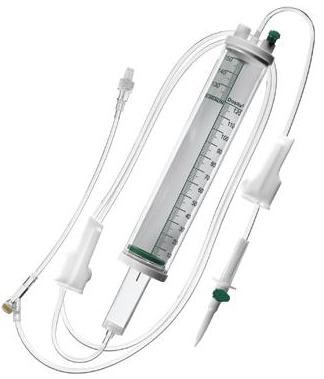 Dosifix® Small Volume Burette 150ml with Luer Lock
RRP: $16.69
$11.33
inc GST
Save: $5.36
Code: BN403557
Supplier Part: 4054504 (EACH)
Unit: each
Bulk Unit: 25 per ctn
This product has been discontinued. It will still be purchasable while stocks last but will not be restocked after this point.
Contains a metered small-volume chamber designed to limit the amount of solution available to the patient, usually for safety, but also as an intermittent infusion of medication that can be admixed immediately before infusion. Primarily required for pediatric and neonatal patients. Suitable for gravity infusions.
Features:
150 mL dosage container, with fine graduation
Screw tight Luer Lock fitting to prevent accidental disconnection
Flexible transparent drip chamber with micro dropper (60 drops = 1 ml ± 0.1 ml)
Specifications:
Soft, clear PVC tubing with standard lumen 3 x 4.1 mm, standard length 150 cm (total 175 cm), DEHP free plasticiser
Maximum Pressure Resistance: 400 mm Hg (0.5 bar)
Request further information on this product
Newsletter
Please enter your email address to subscribe to our newsletters.