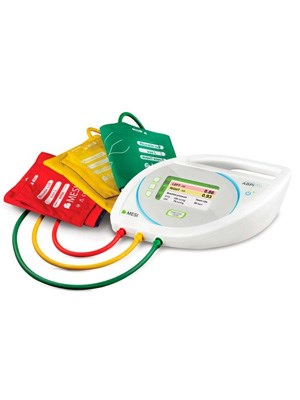 MESI ABPI Measuring Device | ABI Screening Device
RRP: $5,559.84
$4,290.00
Save: $1,269.84
Code: ABPIMDD
Supplier Part: 301-000036/ABPIMDD
Unit: each
Bulk Unit: 4 per ctn
In Stock
MESI ABPI MD is the fastest ABI screening device used to diagnose Peripheral Arterial Disease. A fast, simple and accurate method of measuring the Ankle Brachial Pressure Index (ABPI) in less than 1 minute.
Compared to the handheld Doppler probe, MESI ABPI MD performs an automated ABI measurement. Innovative technology enables the device to provide accurate and objective results, based on which the physicians can diagnose Peripheral Arterial Disease with great confidence.
The blood pressure on the upper and lower extremities is measured simultaneously, resulting in the calculation of the Ankle-Brachial Index (ABI). The measurement is repeatable and can be performed in only one minute, instead of the usual 30 minutes that are required to perform the manual Doppler method.
According to the American Heart Association and the European Society of Cardiology Guidelines on the prevention of cardiovascular disease, patients require a comprehensive cardiovascular risk assessment, regardless of presenting any symptoms. Both guidelines recommend Ankle-Brachial Index (ABI) measurement as the first step to early discover LEAD and lower the number of deaths caused by cardiovascular diseases.
MESI ABPI MD Includes:
ABPI Measuring Unit
Arm Cuff ( Size Medium)
Left Ankle Cuff (Size Medium)
Right Ankle Cuff (Size Medium)
AC/DC Power Supply
USB Cable
Instructions for Use
Request further information on this product
MESI ABPI MD Key Advantages:
Advanced error detection system - Smart software prevents false results even in the case of critical ischemia or medical calcinosis, given physicians all the confidence they need.
Unique algorithm for ankle blood pressure calculation - It is not possible to measure blood pressure in ankles with a brachial blood pressure device. Therefore, the MESI ABPI MD algorithm is different, developed with human ankle anatomy in mind.
3Cuffs™ Technology - Plethismograpy sensors detect the smallest changes in volume. Ease-of-use excludes the possibility of human error.
Simultaneous Measurement - Because blood pressure is constantly changing, simultaneous measurement is crucial to avoid error; MESI ABPI controls the inflation and deflation of the cuffs at the same time to avoid blood pressure drift