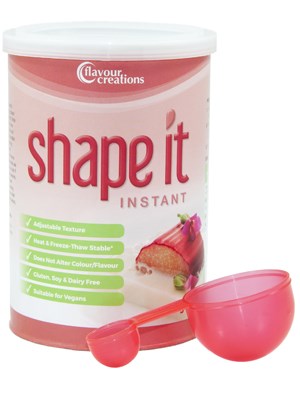 Shape It Instant Premium Food Shaping Powder 200g
RRP: $44.59
$40.59
inc GST
Save: $4.00
Code: FCSH200EE
Supplier Part: SHAPE IT 200
Unit: each
Bulk Unit: 10 per ctn
Bring dignity back to dining with Shape It, the premium instant food moulding powder. Shape It can transform any texture-modified food into an attractive, enticing dish that either resembles the original food, or is shaped to add interest and visual appeal to the plate, while maintaining required texture.
Features & Benefits:
Moulds Pureed Food to Any Shape
Heat & Freeze-Thaw Stable
Taste Free
Gluten Free
No Artificial Colours or Flavours
Suitable Diets:
Gluten Free
Dairy Free
Lactose Free
Certified Halal
Certified Kosher
Vegetarian
Vegan
Allergen Free
Texture Modified Diets
Directions
Refer Dosage Guide for ratio of liquid and food.
Whisk level scoops of Shape It into pureed food or liquid.
In a saucepan, bring to the boil over medium heat, and simmer gently for two minutes, while stirring occasionally.
Pour the mixture into a container or mould and refrigerate until set.
Storage
Store in a cool, dry place out of direct sunlight. Once prepared, food and drinks should be handled and stored according to your Food Safety Protocols. Flavour Creations recommends the use of the '2-hour/4-hour rule' for serving vulnerable persons. Refrigerate food and drinks between serving, and discard any leftover product after 24 hours.
Shelf Life
18 months (once opened, use within 3 months)
Warnings
Not suitable for children under 12 months of age.
Specifications:
Brand: Flavour Creations
Product: Shape It Instant (SHAPE IT 200)
Size: 200g Can
UOM: each
Image is sample of product
Request further information on this product
Newsletter
Please enter your email address to subscribe to our newsletters.