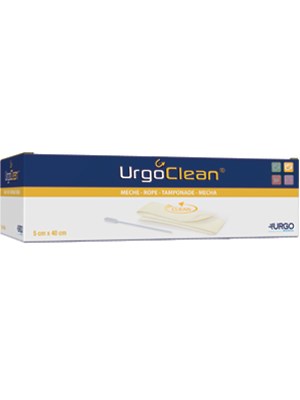 URGOCLEAN ROPE 2.5X40cm - Box/5
Code: AM100374
Supplier Part: 100374
Unit: box
Buy In Item
UrgoClean Rope is a sterile, non-woven rope, composed of poly-absorbent fibres that are highly absorbent and cohesive.
MODE OF ACTION
In contact with exudate, the poly-absorbent fibres of UrgoClean gel, swell and bind to the sloughy residue, absorbing and draining it to aid elimination (autolytic debridement). The creation of this gel maintains a moist environment, in contact with the wound, which promotes the healing of desloughed areas, trapping exudate and preventing their lateral diffusion.
BENEFITS:
Packaged with a probe to assess the wound depth
Absorption and controlled diffusion of exudate
Absorption and trapping of bacteria
Removal of dressing in one piece due to the strength of the poly-absorbent fibres
Maintenance of a moist environment in contact with the wound, favourable to healing of desloughed areas
UOM: Box/5's
Size: 2.5cm x 40cm
Image is sample of product
Request further information on this product
Newsletter
Please enter your email address to subscribe to our newsletters.