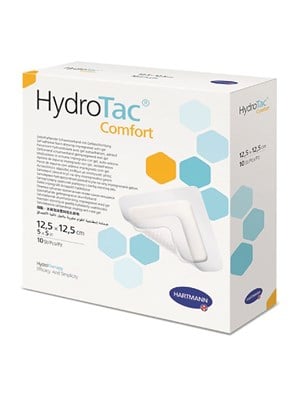 HydroTac Comfort Adhesive 8x8cm
Code: 44685810
Supplier Part: 685810
Unit: box
Bulk Unit: 6 per Ctn
Prices shown are exclusive of GST
HydroTac Comfort is a unique absorbent foam dressing with a net shaped hydrogel wound contact layer, HydroTac® can be used for the treatment of slight to moderately exuding wounds as it offers sufficient absorption with top film water vapour permeability, to provide an optimal moist wound environment to support effective wound healing.
For dry wounds, the net shaped hydrogel wound contact layer provides moisture as required, rehydrating the wound bed. HydroTac® Comfort is used for the treatment of wounds in the granulation and epithelialisation stage of healing.
Key Features:
Hydrates and absorbs
Protects and soothes
Active moisture release
Supports epithelialisation and a granulation
Promotes optimal moist wound healing environment
Alleviates pain on removal
Box/10
Request further information on this product
Newsletter
Please enter your email address to subscribe to our newsletters.