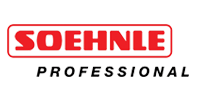 SOEHNLE is one of the leading European companies in professional weighing and measuring technology. Specialising in proven standard scales for medical, health and veterinary requirements.
SOEHNLE Weighing Scales and Height Measures
SOEHNLE scales have been weighing people, objects and food since 1868. Today SOEHNLE Industrial Solutions, based in Backnang, is part of the internationally operating RIVA holding company.
SOEHNLE is one of the leading manufacturers in the field of professionally used measuring and weighing technology. Their portfolio of products are developed, produced and quality-tested in Germany and are used worldwide in areas such as airports, parcel services, industrial companies, in the food industry and hospitals.
A wide range of calibrated scales is available to doctors, clinics and rehabilitation facilities. The range of scales includes professional weighing in medical facilities, from baby scales to personal and from dynamic scales to obesity, chair, wheelchair or floor scales.
With a high quality product portfolio, customer-oriented service and strong brand presence around the world, SOEHNLE is proudly represented by Vital Medical Supplies in Australia.
---
Top Picks From Our Soehnle Range
Scales
SOEHNLE Mechanical Personal Scales 160kg

Mechanical personal scale from SOEHNLE with classic circle pointer display and easy to read kg-steps. Maximum weighing measurement 160 kg. High quality German technology from SOEHNLE.

Large and clear circle pointer display
Manual zero resetting possible
Attractive chrome trim ring
Sturdy steel housing
Weighing platform with easy-to-clean plastic covering

SOEHNLE Digital Floor Scales 250kg

Digital personal scale

from SOEHNLE for high weighing range up to 250 kg. Large weighing platform with non-slip surface. High quality German technology from SOEHNLE.

Simple to use step-on start function with easy to read LCD display.
Energy saving auto-off function.
Measurement units in kg and lb.

SOEHNLE Easy-Fold Baby Scales

SOEHNLE foldable baby scale is designed for easy transportation. It has a patented folding mechanism with magnetic lock.

Low space requirement, easy to transport
Easy to read LCD display
Tare function: Covers/paddings can be tared
Hold function: The weight value will be held for a few seconds after unloading
Switchable to kg/lb units
Energy-saving auto-off function
Battery operation with 2 x 1.5 V AAA alkaline batteries (included in scope of delivery)
Height Measurement
SOEHNLE Electric Height Rod

A foldable height measuring rod from SOEHNLE for mobile use. Ultrasound measuring technology, temperature-compensated.

High quality German technology from SOEHNLE.

Electric Height Rod Key Features:

Tilt sensor for correction if measuring instrument is not horizontal, resulting in an error message
Low space requirement due to fold function
Plastic housing
LCD display, 9 mm digit height
Acoustic acknowledgment at end of measurement and reading displayed
Units in cm or inch
Battery operation with 2 x 1.5 V AA batteries (included in scope of delivery instruments

SOEHNLE Mechanical Measuring Tape

SOEHNLE mechanical measuring tape is a small and handy height measure with easy wall mounting. Maintenance free and no wear parts. Maximum measurement 220 cm, units in mm. High quality German technology from SOEHNLE.

Features and Benefits:

The SOEHNLE mechanical measuring tape is designed for wall mounting and comes maintenance free, no wear parts. Units in mm.

Specifications:

Size: Maximum measurement is 200cm
Unit of Measurement: Each
Image is a sample of product
Newsletter
Please enter your email address to subscribe to our newsletters.