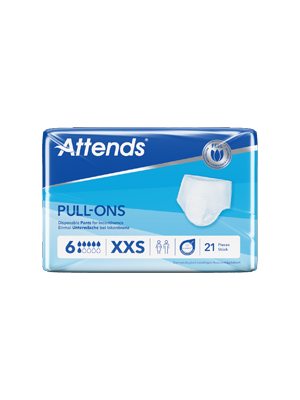 Attends Pull-Ons, Absorbency level 6 XX Small (60-90cm)- Pkt/18
Code: 23310088
Supplier Part: 35953/31588
Unit: PAC 21
The Attends® Pull-Ons are a close fitting pants that can be easily pulled up and down like normal underwear, and is suitable for light bladder and/or faecal incontinence.
Features and Benefits
The Attends® Pull-Ons feature a wide breathable elasticised waistband that creates a good fit to reduce the risk of leakage and improved comfort for the wearer. The Pull-Ons are designed with an absorbent core with Active Zone and Quick Dry acquisition layer, to help reduce the risk of leakage, provide odour protection and skin dryness.
In addition to this, the Pull-Ons are constructed for a close comfortable fit and discretion in mind with an anatomically shaped core, breathable backsheets and curved leg elastics to prevent leakages. Attends® have ensured the wearer has an easy-going experience with side panels that open easily for removal and disposal of the pant.
Specifications:
Brand: Attends®
Product: Pull-Ons (23310160)
Size: Extra Small
Waist Size: 45-60cm
Absorbency Level: 6
Incontinence level: Light
Unit of measurement: Packet of 22
Image is a sample of product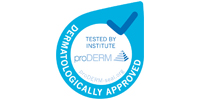 Request further information on this product
Newsletter
Please enter your email address to subscribe to our newsletters.