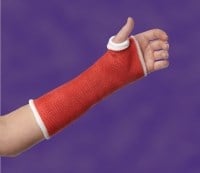 Delta-Lite® Plus 5cm Roll
RRP: $18.54
$17.59
inc GST
Save: $0.95
Code: SN4791W
Supplier Part: 73458-01
Unit: EA
Fibreglass Casting Bandage
Delta-Lite Plus is a fibreglass cast tape that is easy to use and durable. The finished casts are strong, long lasting and lightweight making them particularly appropriate for young, active patients and the elderly.
Smooth finished cast
Strong lamination
Easy unrolling tension
Good conformability
Improved rigidity
(Mixed colours or other colours available in box of 10 only. Please specify colour or mixed. Price is equivalent to 10 x "10+ price" of Delta-Lite Plus)
Request further information on this product
Newsletter
Please enter your email address to subscribe to our newsletters.