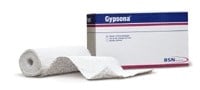 GYPSONA SINGLE 10cmx3.5m
Code: SNS5004EE
Supplier Part: 71987-40
Unit: EA
Plaster of Paris is the traditional and most widely used cast material for immobilisation of fractures, diseased bones and joints, correction of deformities, contact casting (diabetic foot) and acute splinting.

Gypsona* BP Plaster of Paris Bandages are made from a specially woven cloth, uniformly impregnated with the finest quality, fast setting plaster of Paris. The bandage is spooled on a round core for superior bandage stability. Moisture proof packaging improves the protection of the bandages.
Features

Rapid immobilisation of fractures

Leno cloth for good conformability

Round cores for improved bandage handling

Low plaster loss

Moisture proof packaging

Rapid fracture immobilisation
The fast setting plaster of Paris used on Gypsona bandages ensures that fractures can be rapidly immobilised, especially important in accident and emergency departments, operating theatres and busy fracture clinics.

Leno cloth
The interlocked weave of this cloth makes the wet bandage more stable and conformable, to mould around awkward contours. The leno cloth also helps to minimise plaster loss.

Round cores
The introduction of round cores to Gypsona plaster of Paris bandages improves the stability and handling characteristics of the wet bandage, which is particularly important on wider sizes. The round core design ensures good 'wetting out' of the bandage.

Request further information on this product
Newsletter
Please enter your email address to subscribe to our newsletters.