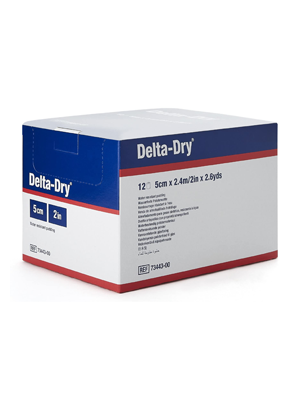 Delta-Dry® Water resistant Cast Padding - 5cm x 2.4m – each
Code: SN73443-3E
Supplier Part: 73443-00
Unit: EA
Delta-Dry® Water resistant Cast Padding is a breathable water-resistant cast padding that provides additional cushioning and layer of protection for a plastered wound to maximises patient's comfort throughout the healing process.
Features and Benefits:
The unique patented technology in Delta-Dry® Water resistant Cast Padding provides breathable and water resistant cushioning layer that maintains patient's daily hygiene as it allows patients to shower, bathe and swim like normal , resulting in flexibility and less disruption in lifestyle.
The water-resistant feature enables lower risks of maceration, skin irritation and odour that is prevalent from the accumulation of dirt and sweat, hence it aids in better healing process and improved patient's comfort.
Delta-Dry® Water resistant Cast Padding is a wrinkle free material that enables easy application making it the best and convenient choice for medical professionals and their patients.
Specification
Brand: Delta-Cast
Product: Delta-Dry® Water resistant Cast Padding (SN73443-3E)
Feature: Water-resistant, breathable, wrinkle free
Size: 5cm x 2.4m
Unit of Measure: each
Image is a sample of the product
Request further information on this product
Newsletter
Please enter your email address to subscribe to our newsletters.