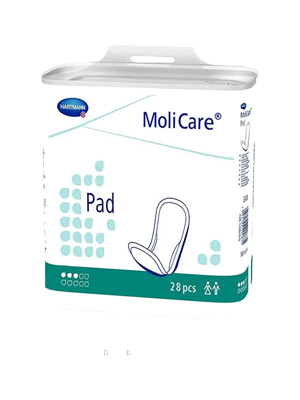 MoliCare Pad 3 Drops, Unisex - Ctn/6
Code: 44168101
Supplier Part: 168101
Unit: CAR 168
The MoliCare Pad 3 Drops is a dependable solution for light bladder weakness that can be used by both men and women. Designed to fit comfortably within regular underwear or fixation pants, this pad features a 3-layer absorbent core that effectively pulls fluid away from the surface, keeping the skin dry, healthy and free from odours.The pad features innovative curly fibre technology that aids in preserving the skin's natural pH level, thereby minimising the risk of infection and skin irritation commonly caused by incontinence.
Features and Benefits
The MoliCare Pad 3 Drops range is suitable for both men and women and is designed to provide reliable protection against light bladder weakness. The inclusion of pH5.5 skin-friendly properties helps to minimise the risk of skin irritation and redness caused by incontinence. Its wide adhesive stripe ensures secure and comfortable fixation when worn with regular underwear. The pad features a Polyethylene backsheet that provides an additional layer of protection, while the odour neutraliser efficiently seals in odours, ensuring maximum freshness. The anti-leakage system facilitates fast absorption and promises maximum security from leaks. Additionally, this product is dermatologically tested, ensuring both comfort and security for the user.

Specifications
Brand: Molicare
Product: Molicare Pad 3 Drops (44168101)
Urine Absorbency level: 3 drops
Unisex
Unit of measurement: Carton of 6
Image is a sample of product
Request further information on this product
Newsletter
Please enter your email address to subscribe to our newsletters.