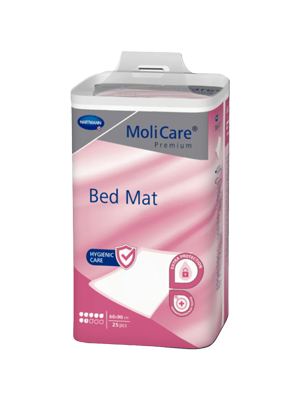 MoliCare Premium Bed Mat 7 Drops, 60x90cm - Ctn/4
Code: 44161070
Supplier Part: 161070
Unit: CAR 100
MoliCare Premium Bed Mat is a lightly absorbent underpad to help protect bedding and furniture. The bed mat features a protective waterproof backing that ensures maximum protection against leaks and spills. It also comprises a non-woven top sheet that protects the skin from irritations and provides a soft, comfortable feel. The bed mat's elastic foil is stamped at the edges to prevent leakage at the sides and hold the underpad securely in place. This feature guarantees that the bed mat remains in position, providing the user with peace of mind and uninterrupted sleep.

Specifications
Brand: Molicare
Product: Molicare Premium Bed Mat (44161070)
Urine Absorbency level: 7 drops
Unisex
Unit of measurement: Carton of 100 (4 boxes of 25 Pieces)
Image is a sample of product
Request further information on this product
Newsletter
Please enter your email address to subscribe to our newsletters.