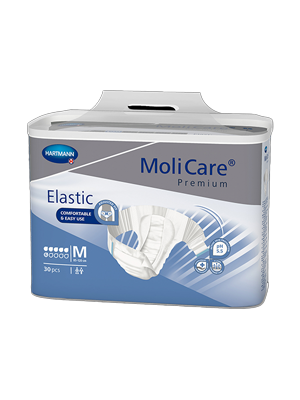 MoliCare Premium Elastic 6 drops Medium 30pcs- Ctn/3
Code: 44165272-B
Supplier Part: 165272
Unit: CAR 90
The MoliCare Premium Elastic is an all-in-one slip style pad for moderate to very severe incontinence, suitable for all body shapes. MoliCare Premium Elastic is self explanatory and quick and easy to apply with only 2 elasticated side panels and 2 re-closable tapes. Faster application and less handling helps preserve the dignity of patients, while the ergonomic design helps reduce stress on the body of care givers. MoliCare Premium Elastic offers maximum leakage protection, absorption performance and odour control for high level confidence and security.
Features and benefits:
For moderate incontinence
2 elasticated side panels for comfort and security
2 re-closable tapes making application quick and easy
Ergonomic design reduces body stressfor care giver
Can be applied in standing or lying position
3 layer absorbent core keeps skin dry
Maintains the skin pH and reduces the risk of incontinence related skin irritation
Leakage cuffs for maximum leakage protection
Odour neutralisers for high level confidence
Soft textile materials for ultimate wearing comfort and discretion
Specifications
Brand: Hartmann
Product: MoliCare Premium Elastic (44165272-B)
Size: Medium
Waist/Hip Size: 85-120cm
Absorbency: 6 drops (1667 - 2786 ml)
Unit of measurement: Carton of 3
Image is a sample of product
Request further information on this product
Newsletter
Please enter your email address to subscribe to our newsletters.