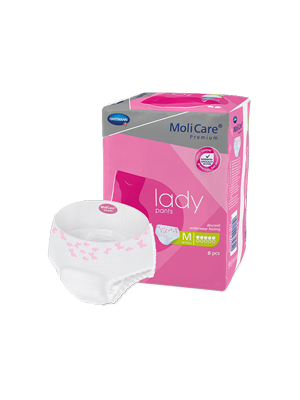 MoliCare® Premium Lady 5 Drops Incontinence Pants, Medium – Ctn/8
Code: 44915867
Supplier Part: 915867
Unit: CAR 64
MoliCare® Premium Lady Pants are designed to feel and look like regular underwear, equipped with protection for light to moderate levels of bladder weakness. Along with an absorbent core, the lady pants also contain Aloe Vera so that skin remains dry, healthy, and odour-free. Unique curly fibre technology also helps with maintaining optimal skin pH to reduce the risk of skin irritation associated with incontinence.
Features and benefits:
The MoliCare® Premium Lady Pants offer the look and feel of normal underwear with its lower waistline and feminine design. The pants provide support for incontinence through a 3-layer odour neutralising absorbent core which absorbs 1-2 cups of fluid, for a dry feeling. Aloe Vera and pH buffering ensure that the skin is healthy and reduces the risk of incontinence-associated skin irritations. Pants have been dermatologically tested.
Specifications:
Brand: Hartmann
Product: MoliCare® Premium Lady Incontinence Pants, 5 Drops (44915867)
Size: Medium
Waist/hip measurement: 80-120cm
Absorbency ISO: 5 drops (850mL)
Feature: dermatologically tested with absorbent core and odour neutraliser
Unit of Measure: Carton of 4
Image is sample of product
Request further information on this product
Newsletter
Please enter your email address to subscribe to our newsletters.