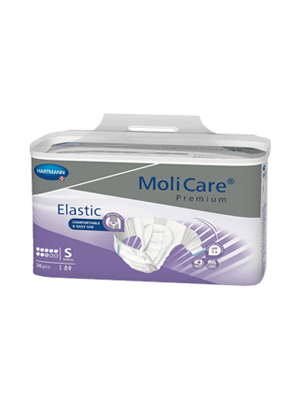 Molicare® Premium Elastic 8 Drops Incontinence Pads, Small – Ctn/3
Code: 44165471
Supplier Part: 165471
Unit: CAR 3
The Molicare Premium Elastic 8 Drops Pads is a skin friendly incontinence pant suitable for moderate to severe incontinence. The pull-up pant offers maximum patient comfort and leakage protection security whilst resembling normal underwear.
Molicare Premium Elastic 8 Drops Pads are designed with 2 re-closable tabs and elasticated side panels for quicker and efficient application and handling. This feature provides patients with complete protection, absorption and odour neutralisation for comfort and confidence.
Features and Benefits:
The Molicare Premium Elastic 8 Drops Pads are designed to be an all inclusive incontinence pad featuring 2 adjustable side panels and re-closable tabs that can be applied from a lying or standing position. This unique ergonomic component also reduces additional physical strain on patients and caregivers.
The gentle textile fabric helps in providing patient discretion and comfort aided by the additional leakage cuffs and skin-friendly 3-layer absorbent core that helps ensure clean and dry skin while maintaining skin pH to reduce skin irritation from incontinence.
Specifications:
Brand: Hartmann Group

Product: MoliCare® Premium Elastic 8 Drops Incontinence Pads (44165471)

Sterility: Non-sterile

Feature: Re-closable tapes and elasticated side panels for easy application

Waist/Hip Measurement: 70 - 90cm

Urine Leakage Level: 8 Drops

Absorbency ISO: 2356 - 3591mL

Unit of Measurement: Carton of 3

Image is sample of product.
Request further information on this product
Newsletter
Please enter your email address to subscribe to our newsletters.