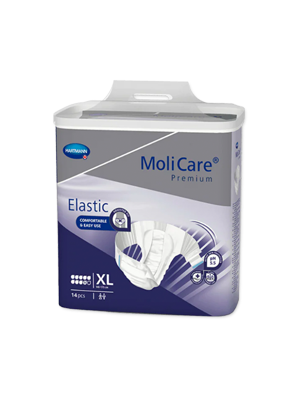 Molicare® Premium Elastic 9 Crops Incontinence Pads, X-Large – Ctn/4
Code: 44165574
Supplier Part: 165574
Unit: CAR 56
The Molicare Premium Elastic 9 Drops Incontinence Pads is an all-inclusive pad used for moderate to very severe incontinence pads suitable for all bodies. The 2 re-closable tapes and 2 elasticated side panels offer quick and easy application, complete protection, absorption and odour neutralisation for patient comfort and confidence.
Molicare Premium Elastic 9 Drops Incontinence Pads offering quicker and efficient application and handling to aid in preserving patient dignity while the ergonomic design helps in reducing stress on caregivers.
Features and Benefits:
The Molicare Premium Elastic 9 Drops Incontinence Pads incorporate accessible and quick application with its 2 adjustable side panels and re-closable tabs that can be applied from a lying or standing position. The unique ergonomics also reduces additional physical strain on patients and caregivers.
The soft fibe fabric aids in ultimate patient discretion and comfort aided by the 3-layer absorbent core and leakage cuffs and ensures clean and dry skin while maintaining skin pH to reduce skin irritation from incontinence.
Specifications:
Brand: Hartmann Group

Product: Molicare® Premium Elastic 9 Drops Incontinence Pads X-Large (44165574)

Sterility: Non-sterile

Feature: Re-closable side tapes and 3-layer absorbent core

Absorbency ISO: 9 Drops (2546 - 3941mL)

Waist/Hip Measurement: 140 - 175cm

Unit of Measurement: Carton of 4

Image is sample of product.
Request further information on this product
Newsletter
Please enter your email address to subscribe to our newsletters.