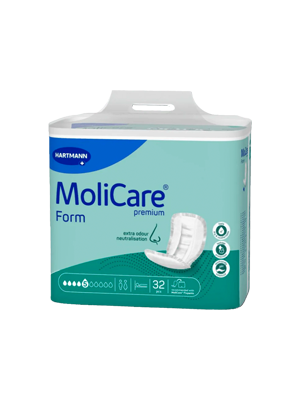 Molicare® Premium Form 5 Drops Incontinence Pads – Ctn/4
Code: 44168405
Supplier Part: 168405
Unit: CAR 128
The Molicare Premium Form 5 Drops Incontinence Pads equip patients who suffering from moderate to severe incontinence with optimal leakage protection
Molicare Premium Form 5 Drops Pads are manufactured with a 3-layer absorbent core which helps keep patient's skin clean and dry, and supports lowering the risk of irritation caused by incontinence.
Features and Benefits:
The Molicare Premium Form 5 Drops Pads have been made to be a perfect fit for patients of all body shapes. The pads include a soft textile fabric that aids in patient security and confidence, recommended to be worn with Molicare Premium Fixpants.
Molicare Premium Form 5 Drops Pads are created using perfume-free materials with advanced skin protection characteristics that helps in infection risk and irritation.
Specifications:
Brand: Hartmann Group

Product: Molicare® Premium Form 5 Drops Incontinence Pads (44168405)

Sterility: Non-sterile

Feature: 3-layer absorbent core

Absorbency ISO: 4 Drops (1483mL)

Unit of Measurement: Carton of 4

Image is sample of product.
Request further information on this product
Newsletter
Please enter your email address to subscribe to our newsletters.