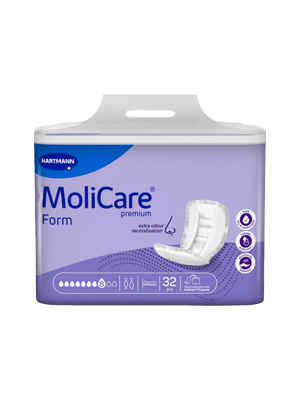 Molicare® Premium Elastic Form 8 Drops Incontinence Pads - Ctn/4
Code: 44168408
Supplier Part: 168408
Unit: CAR 128
The Molicare Premium Form 8 Drops Incontinence Pads are reliable pads with maximum leakage protection for patients suffering from moderate to severe bladder incontinence.
Molicare Premium Form 8 Drops Pads are made with a unique 3-layer absorbent core, designed to provide patients with optimal security and comfort which helps keep patient's skin clean and dry, and supports lowering the risk of irritation.
Features and Benefits:
The Molicare Premium Form 8 Drops Pads are manufactured using perfume-free materials with advanced skin protection characteristics that helps in infection risk and irritation. They have been designed to perfectly shape all patient body shapes and are recommended to be worn with Molicare Premium Fixpants.
Specifications:
Brand: Hartmann Group

Product: Molicare® Premium Form 9 Drops Incontinence Pads (44168408)

Sterility: Non-sterile

Feature: 3-layer absorbent core

Absorbency ISO: 9 Drops (3239mL)

Unit of Measurement: Carton of 4

Image is sample of product.
Request further information on this product
Newsletter
Please enter your email address to subscribe to our newsletters.