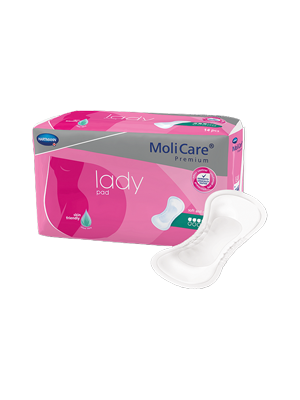 MoliCare® Premium Lady 3 Drops Incontinence Pad – Ctn/12
Code: 44168644
Supplier Part: 168644
Unit: CAR 168
The MoliCare® Premium Lady Pads have been tailored for the security and comfort of the female anatomy, while still maintaining a discreet design. The MoliCare® Premium Lady Pads have a level of 3 drops absorbency suitable for small drips and dribbles. With a 3-layer absorbency core and skin-friendly Aloe Vera treatment, the premium pads keep skin dry, healthy, and odour-free.
Features and benefits:
MoliCare® Premium Lady Pads include a skin-friendly breathable back sheet, Aloe Vera-treated top sheet, and odour-neutraliser. Fast absorption anti-leakage system with soft-foam elastics and pH buffering effect ensures that skin pH is sustained at 5.5. Wide adhesive strip ensures the pad remains situated comfortably in regular underwear. Pads have been dermatologically tested.
Specifications:
Brand: Hartmann
Product: MoliCare® Premium Lady Incontinence Pad, 3 Drops (44168644)
Absorbency ISO: 3 drops (504mL)
Feature: dermatologically tested with breathable material and odour neutraliser
Unit of Measure: Carton of 12
Image is sample of product
Request further information on this product
Newsletter
Please enter your email address to subscribe to our newsletters.