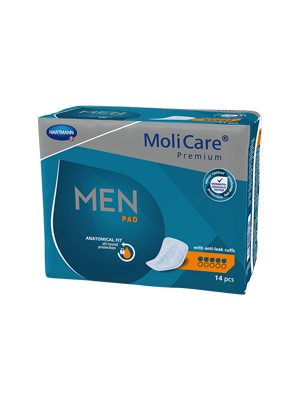 MoliCare® Premium Men 5 Drops Incontinence Pad – Ctn/12
Code: 44168801
Supplier Part: 168801
Unit: CAR 168
MoliCare® Premium Men's Pads promote comfort and security for male patients. Comprised of a 3-layer absorbent core and unique curly fibre technology, this premium pad keeps the skin dry and odour-free, reducing the risk of incontinence-related skin irritation.
Features and benefits:
The MoliCare® Premium Men's Pad includes a breathable back sheet, soft top sheet, and all-around protection through fast absorption and anti-leakage cuffs. The premium pad's antibacterial character and pH buffering supports the skin-neutral pH level of 5.5. Wide adhesive strip ensures the pad remains situated comfortably in regular underwear. Pads have been dermatologically tested.
Specifications:
Brand: Hartmann
Product: MoliCare® Premium Men Incontinence Pad, 5 Drops (44168801)
Feature: Dermatologically tested with breathable material and odour neutraliser
Absorbency ISO: 5 drops (852mL)
Unit of Measure: Carton of 12
Image is sample of product
Request further information on this product
Newsletter
Please enter your email address to subscribe to our newsletters.