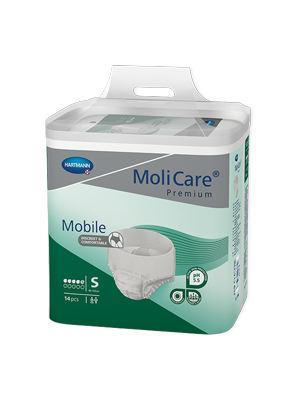 MoliCare® Premium Mobile Pull-Up Pad 5 Drops, Small – Ctn/4
Code: 44915861
Supplier Part: 915861
Unit: CAR 56
MoliCare® Premium Mobile is a skin-friendly pull-up pad that resembles normal underwear, with a 3-layer absorbent core to provide highly effective leakage protection for moderate to heavy incontinence.
Features and benefits:
MoliCare® Premium Mobile is a pull-up pad designed to look and feel like regular underwear with soft, comfortable textiles. Included are a 3-layer absorbent core, odour neutralisers, and inner leakage cuffs for maximum leakage protection and high-level confidence. pH buffering reduces the risk of skin irritation caused by incontinence. The pull-up pad features tear-open side seams to facilitate the changing process. Suitable for both men and women.
Specifications:
Brand: Hartmann
Product: MoliCare® Premium Mobile Pull-Up Pad, 5 Drops (44915861)
Feature: 3-layer absorbent core and inner leakage cuffs
Size: Small
Waist/hip measurement: 60-90cm
Absorbency ISO: 5 drops (941-1183mL)
Unit of Measure: Carton of 4
Image is sample of product.
Request further information on this product
Newsletter
Please enter your email address to subscribe to our newsletters.