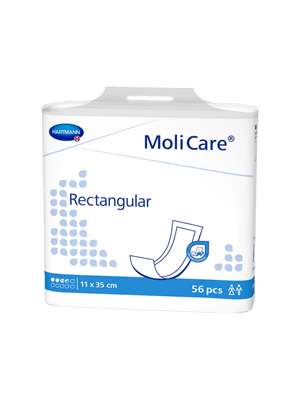 MoliCare® Rectangular Pad 3.5 Drops Unisex 350x108mm – Ctn/4
Code: 44148530
Supplier Part: 148530
Unit: CAR 224
The MoliCare® Unisex Rectangular Insert Pad contains an adhesive band made from superabsorbent polymers for light urinary incontinence, smearing or faecal staining.
MoliCare Unisex Rectangular Pads are suitable to use alongside MoliCare Fixation pants or close-fitting undergarments.
Specifications:
Brand: Hartmann Group

Product: MoliCare® Rectangular Insert Pad, 3.5 Drops (44148530)

Feature: Adhesive strips for secure fit

Absorbency: 3.5 drops

Size: 350x108mm

Gender: Unisex

Sterility: Non-sterile

Unit of Measurement: Carton of 224 (4 boxes of 56)

Image is a sample of product.
Request further information on this product
Newsletter
Please enter your email address to subscribe to our newsletters.