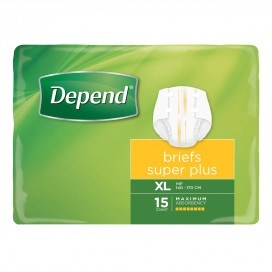 Depend Briefs Super Plus XL - Ctn/15
RRP: $222.92
$189.20
inc GST
Save: $33.72
Code: KI17400
Supplier Part: 17400
Unit: ctn
In Stock
DEPEND BRIEFS SUP PLUS XL
UoM - Ctn/15
Bulk - Ctn/12 per
Depend Briefs are suitable for day or night use for managing heavy urinary incontinence. They are also suitable for bowel incontinence.
Depend Briefs Super + Extra Large Unisex 3100ml Yellow Pkt x 15
Ideal for men and women with limited mobility. Can be fitted while sitting, standing or lying down.
White soft cloth like outer cover provides outstanding comfort, helps optimise skin health through air circulation at the sides and is more discreet
Improved padding formation with embossed pattern and long side leakage guards ensure absorbency, comfort and reliability
Features a full length wetness indicator to enable a more informed change time decision
Unique dry lock core reduces odour and keeps the wearer dry
Improved fastening system with frontal patch allows multiple re-fastening and adjustment
Top layer quickly draws moisture away from skin into absorbent core, with Dry-Touch granules, locks liquid away to prevent leakage and odour
Gentle leg elastic and waist elastic at the back of the briefs helps provide a closer fit for better protection
Request further information on this product
Newsletter
Please enter your email address to subscribe to our newsletters.