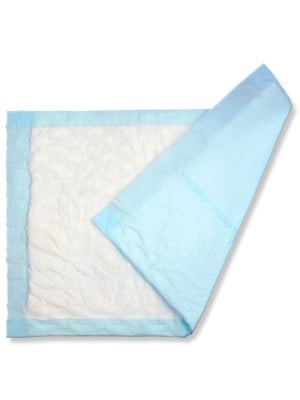 Underpad 40 x 60cm - Ctn/200
Code: CEIP4640
Supplier Part: IP4640
Unit: CAR 200
Incontinence Pad or Bluey are intended to be used on a patients bed. Manufactured from quilted "fluff-pulp" which assists the absorption and dispersion rate of urine. Cover is of soft non woven hydrophobic material and the blue backing is waterproof.
Incontinence Underpad Key Features:
Soft Top Cover
A soft outer fabric provides increased comfort while maintaining its strength.
Absorbent Core
Constructed with virgin fluff fibres to ensure fast absorbency and maximum comfort.
Soft Waterproof Backing
Designed to be silent and minimise movement when in use.
Economical Option
The use of disposable underpads can dramatically reduce laundry costs.
Folded
Folded for hygiene & easy bench storage.
The range includes product suitable for chair and bed protection for adults
Excellent baby change mat
1 carton contains 10 bags of 20 pieces
Blue backing colour (also referred to as Bluey)
Absorbency 400ml
40 x 60cm size pads
Specifications:
Underpad Size: 40 x 60 cm
Capacity: 350mL
UOM: Carton of 200
Image is sample of product.
Request further information on this product
Newsletter
Please enter your email address to subscribe to our newsletters.