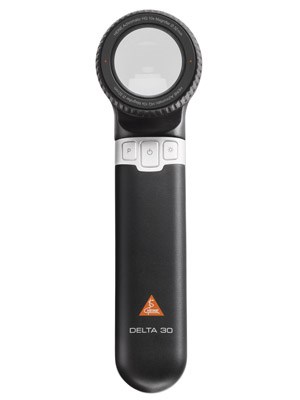 HEINE Delta 30 Dermatoscope LED HQ Illumination 10x Magnification
Code: HEK2302830
Supplier Part: K-230.28.305
Unit: EA
In Stock
The HEINE Delta 30 Dermatoscope has the largest true field of view with 30mm (lens 32mm) and a 10x magnification, that produces an extremely sharp image with the new achromatic HEINE optical system. It has an excellent colour rendering and crystal clear imaging, due to the LED HQ. Due to the angled product deigned, it has an ergonomic handle for comfort and efficient use.
While this Dermatoscope can switch between polarised and non-polarised illuminations with just a touch of a button, its polarisation eliminates reflections and glare, and it has 3 levels of brightness control. To avoid cross contamination, it has an autoclavable contact plate with scale, and it also has an option of contact to non- contact examination, with a 15 mm working distance possible.
The Digital documentation is made easy with the exclusive HEINE DERM app, or the HEINE Cube System, that allows for better clinical decisions. Additionally, the Li-ion technology allows it to safely recharge the battery regardless of its charge state, with no memory effect.
Specifications:
Brand: HEINE
Product: HEINE Delta 30 Dermatoscope (K-230.28.305)
Dimensions (mm): 195(L) x 55(W) x 70(H)
Connections: Micro USB port and connection to Charger 30 table charging station
Magnification: 10 fold
Optical Systems: Achromatic System, 3 Elements
Lense Diameter: 32mm
Unit of Measure: Each
Image is sample of product
Request further information on this product
Newsletter
Please enter your email address to subscribe to our newsletters.