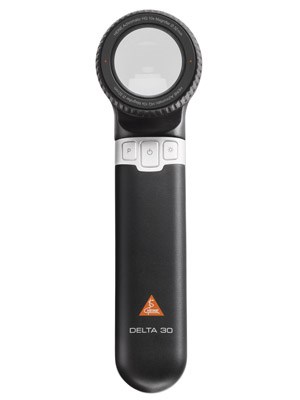 HEINE DELTA 30 Dermatoscope - 10x Magnification
Code: HEK2302830
Supplier Part: K-230.28.305
Unit: each
In Stock
HEINE Delta 30 Dermatoscope
The new HEINE DELTA 30. You could buy it because of its looks. Or because of its optics.
Not only would the new high-end dermatoscope win any beauty pageant; it stands out due to the best imaging ever developed. Combined with a field of view measuring a veritable 30 millimetres and unprecedented colour rendering, in LEDHQ of course. Polarisation provides glare-free and non-reflective working conditions. Above all else, it is comfortable to operate with its angled, ergonomic design and intuitive control. Feel free to take a look – you're in for a real discovery.
Excellent colour rendering due to LEDHQ
Digital documentation with the exclusive HEINE DERM app or the HEINE Cube System**
Ergonomic handling thanks to the angled product design
Crystal-clear image with the new achromatic HEINE optical system
Largest field of view of real 30 mm (lens 32 mm)
Glare-free and non-reflective working conditions thanks to polarisation
Custom light intensity: 3 degrees of luminous intensity
10x magnification
Switch between polarised and non-polarised light at the touch of a button = toggle function. For more information, please visit heine.com/en/Toggle
No cross-contamination – autoclavable contact plate with scale
Maintenance-free due to our dustproof design
Dioptre compensation
Rechargeable battery with Li-ion technology: no memory effect; you can safely recharge the battery regardless of its charge state
Wireless connection via iPhone* and WLAN with the HEINE Cube System**
* The Apple hardware is not included in the scope of delivery. For Apple hardware, please contact an authorized Apple distributor, an Apple Premium Reseller or Apple Inc. directly. Apple, the Apple Logo, iPhone and iPod touch are trademarks of Apple Inc., registered in the U.S. and other countries.
**Not available in all countries.
Image is sample of product
Request further information on this product
Purchase a DELTA 30 and receive your choice of a small contact plate or universal smartphone adapter.
Free gift will be sent after at the start of each month.
Promotion Dates: 1/10/2020 till 31/12/2020
Newsletter
Please enter your email address to subscribe to our newsletters.