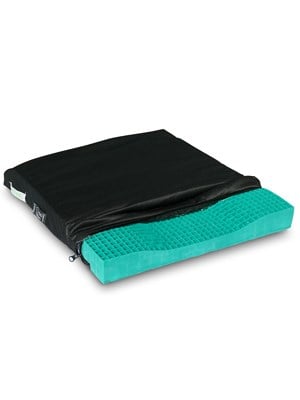 EquaGel General Cushion - 460x460mm
RRP: $559.75
$475.09
inc GST
Save: $84.66
Code: 19224024
Supplier Part: 8-400025-4
Unit: each
Buy In Item
The EquaGel General Cushion is designed to relieve pressure and provide comfort.
The EquaGel General Cushion offers maximum comfort to users by distributing their weight across their seat evenly. Designed to minimise pressure on the buttocks, and reduce pressure sores, this cushion is a great alternative to many other cushions on the market. For those with limited movement, or who require long term seating the EquaGel Cushion may be the permanent solution, especially if the user is prone to pressure ulcers.
This pressure cushion is made by two layers of dry-polymer gel; the top layer comprises a thin wall of gel, while the lower is made from a thicker gel layer, designed to maintain posture support. The General cushion in 2 inches thick and is contoured in the pelvic area to more evenly distribute weight.
The EquaGel General Cushion has a waterproof cover and velcro strip on the bottom for wheelchair users.
Key Features:
Ideal for moderate cushioning needs
Contoured pelvic area for equalising pressure redistribution
Fluid resistant, flame retardant, vapour permeable cover with hook and-loop sections on base for wheelchair security
50 mm high, with 32mm of buckling gel under pressure points
Size: 460 x 460mm
Request further information on this product
Newsletter
Please enter your email address to subscribe to our newsletters.