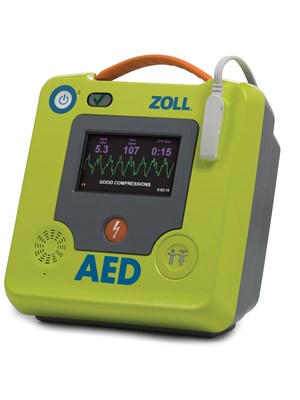 ZOLL AED 3 Defibrillator 12.7(h) x 23.6(w) x 24.7(d) cm
Code: ZO01203-13
Supplier Part: 8501-001202-13
Unit: each
Buy In Item
The ZOLL AED 3® defibrillator leads the way with Real CPR Help® technology, which provides real-time feedback to guide rescuers in delivering high-quality CPR. The innovative, intuitive design and enhanced features of ZOLL AED 3 will give unexpected heroes both the confidence and the knowledge needed to treat SCA.
Features:
Enhanced Real CPR Help, featuring a full-colour display with vivid rescue images, CPR cycle timer, and a large color bar gauge that shows CPR compression depth
CPR Uni-padz™ electrodes can be used on both adult and pediatric patients, so there is no need for two separate sets of pads
Optional cloud connectivity that can automatically report AED readiness
Industry-leading 5-year shelf life for pads and batteries increases readiness and reduces frequency of maintenance
Incorporates a smart battery that can report its power level status on the device's LCD screen or transmit it automatically over WiFi to your AED program management solution
Available in semi-automatic and fully automatic models.
Specifications:
Size: 12.7(h) x 23.6(w) x 24.7(d) cm

Weight: 2.5 kg

UOM: Each
Image is sample of product
Request further information on this product
Newsletter
Please enter your email address to subscribe to our newsletters.