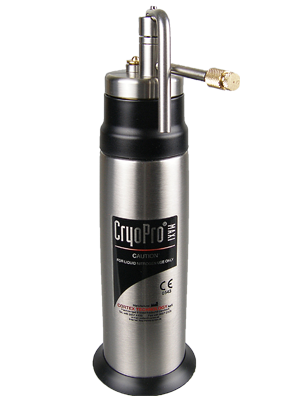 CryoPro Maxi Flask for Liquid Nitrogen Cryosurgery, 500mL - Each
RRP: $1,238.85
$1,132.18
inc GST
Save: $106.67
Code: ELCPROMAX
Supplier Part: 205617/ELCPROMAX
Unit: EA
In Stock
The CryoPro Maxi Flask comes with applicator set (5 tips and 1 cleaning adaptor), allowing primary care doctors to quickly and easily treat a range of dermal problems such as keratoses, condaylomata, warts, skin tags and other skin lesions. Suitable for use by both GP and Specialists.
Features & Benefits:
The CryoPro Maxi Flask is robust in design and construction, providing a reliable tool for your cryosurgery. The CryoPro Maxi Flask builds in safety features like a relief valve and a precision trigger for ease of use. The CryoPro Maxi Flask is designed and manufactured in Denmark and has provided over 2 decades of proven reliable service for Dermatologists and Medical Practitioners.
Specifications
Brand: Warner & Webster
Product: CryoPro Maxi Flask 500mL (ELCPROMAX)
Size: 500mL (20 - 24 Hour Static Holding Time)
Unit of Measure: Each
Image is a sample of product
Request further information on this product
Newsletter
Please enter your email address to subscribe to our newsletters.