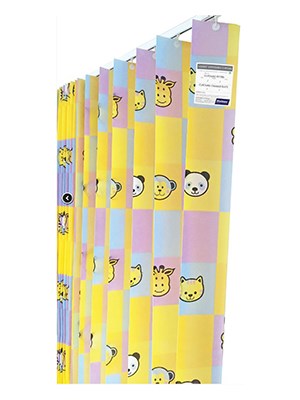 Disposable Hospital Curtain (Paediatric) - 7.5 x 2m - Box/5
RRP: $529.33
$523.60
inc GST
Save: $5.73
Code: HADC75PAED
Supplier Part: DC75PAED
Unit: CAR 5
Haines® Disposable Hospital Curtains are designed to replace your existing reusable curtains in healthcare facilities such as hospitals, day surgeries, medical centres and other healthcare facilities that require the use of curtains.
They offer a cost effective alternative to purchasing and washing reusable hospital curtains and with their proven ability to inhibit bacterial growth, they can improve infection control at your facility.
The Haines® Disposable Hospital Curtains are:
Manufactured from 100% polypropylene, non-woven fabric – 120gsm
Fire retardant (AS 2755.2-1985) – Failed to Burn
Impregnated with anti-bacterial and anti-mildew chemicals including nanometer silver (curtain and mesh)
Visual Appeal
Hospital curtains always look fresh, pleated and new. They are purchased specifically for your area so they are always the right length and size, avoiding issues with the wrong reusable curtains being returned from the laundry.
Specifications:
Material: 100% polypropylene non-woven fabric – 120gsm
Standard eyelets (Option 1) - eyelets are 15cm apart
Hooks required per Curtain - DC25 x 17; DC45 x 30; DC75 x 50
Packing: each folded in poly bag
Tie Back – sewn on so won't fall off
Identification Label - each curtain is supplied with an easy to read
identification label - this is to monitor length of use and provides
an easy way to monitor required changes of curtains
TGA Registered
Fire Retardant- tested to AS1530.2-1993 and AS2755.2-1985
Size: 7.5m X 2m
UOM: Box/5
Image is the sample of the product.
Request further information on this product
Newsletter
Please enter your email address to subscribe to our newsletters.