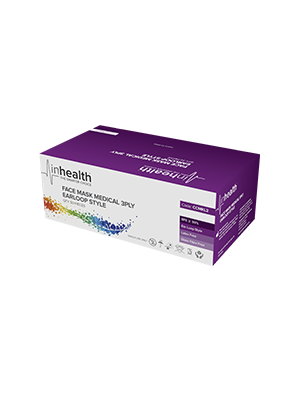 inhealth™ Disposable Face Mask Level 2R 3Ply with Ear Loop-Box/50
RRP: $21.95
$9.35
inc GST
Save: $12.60
Code: CCMKL2
Supplier Part: CCMKL2
Unit: BOX 50
The inhealth™ Face Mask is a protective 3-layer constructed barrier that is intended to protect both the patient and healthcare professions from transfer of micro-organisms, bodily fluids and particulate material. The Face Masks are a single-use, disposable, non-sterile device intended for use in infection control practices to reduce the potential exposure to blood and body fluids.
Features and Benefits
The inhealth™ Face Mask is a comfortable adult-fit device with ear loops and an adjustable nose-bridge for a personalised fit. The inhealth™ Face Mask consists of a mask body, a nose clip and a mask belt, in which the mask body is made of non-woven fabric (outer layer), melt blown cloth (middle layer) and non-woven fabric (inner layer). The Face Mask is constructed with a protective 3-layer design with highly efficient bacterial filtration efficiency (BFE <99%).
Specifications
Brand: inhealth™
Product: Face Mask Medical 3Ply, Ear Loop Style (CCMKL2)
Sterility: Sterile
Colour: Blue
Size: 17.5 X 9.5cm
Usage: Single-use
Latex: Latex-free
Glass-fibre: Glass-fibre free
Feature: Adjustable nose bridge for comfortable personalised fit
Unit of measurement: Box of 50
Image is a sample of product
Request further information on this product
Newsletter
Please enter your email address to subscribe to our newsletters.