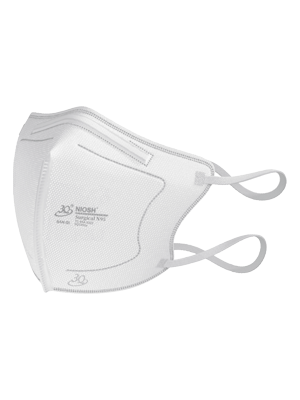 inhealth™ N95 Particle Filter Surgical Mask, Single-use - Box/10
RRP: $32.95
$23.65
inc GST
Save: $9.30
Code: CCMKN95
Supplier Part: CCMKN95
Unit: BOX 10
The inhealth™ N95 Surgical Mask is a single-use face mask to protect both the patient and healthcare professional from the transfer of body fluids and particulate material. Suitable for high-risk environments that require maximum level of protection.
Features and Benefits
The inhealth™ N95 Particle Filter (95% filter efficiency) is effective against particulate aerosols free of oil and each face mask is individually packaged to reduce contamination and convenient to carry. The N95 surgical mask is securely sealed with an adjustable metal nose clip strip to ensure optimal sealing to any face type and ensure security.
Specifications
Brand: inhealth™
Product: inhealth™ N95 Surgical Mask (CCMNK95)
Colour: White
Material: Spunbond needle punched nonwoven, 2-ply melt blown fabric
TGA Id: ARTG 386070
Unit of measurement: Box of 10
Image is a sample of product
Request further information on this product
Newsletter
Please enter your email address to subscribe to our newsletters.