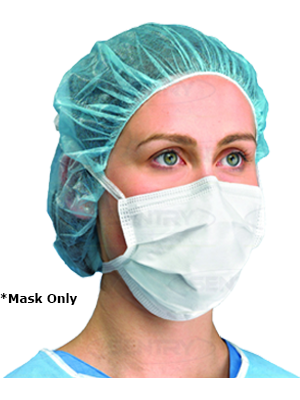 PRIMED Level 3 Surgical Soft Mask, Tieback 4 Ply, White - Box/50
Code: GUPG4-2333
Supplier Part: PG4-2333
Unit: box
Bulk Unit: 6 per ctn
The PRIMED level 3 Surgical mask is a silky, smooth, irritant-free tieback barrier that provides the highest level of protection during procedures and conforms to ASTM F2100 standards. Suitable for surgical procedures where there is a high risk of fluid splash or surgical debris, such as orthopedic surgery, trauma, ICU and emergency rooms.
Features and Benefits
The PRIMED Level 3 surgical soft mask is constructed with irritant-free materials with advanced fluid-resistant and filtration capabilities to keep clinicians with sensitives conformable and protected during high-risk procedures.
The Primed Surgical mask features long surgical ties for easy donning and doffing, with added flexibility to adjust tightness and fit. The wide nose piece is constructed with high-quality aluminum to ensure the mask remains in place across the nose and cheekbones. The level 3 protective surgical mask also features fluid resistance of 160mm hG and high bacterial efficiency (≥ 98%), ensuring clinicians are protected to ASTM F2100 standards.
Specifications:
Brand: Sentry Medical
Product: Primed Level 3 Surgical Soft Mask (GUPG4-2333)
Size: One Size
Colour: White
Protection Standard: Level 3, ASTM F2100
Sterility: Non-sterile
Unit of measurement: Box of 50
Image is a sample of product
Request further information on this product
Newsletter
Please enter your email address to subscribe to our newsletters.