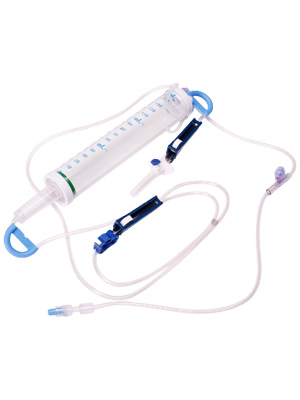 Burette 150mL 60 drops mL Infusion Line 230cm - Ctn/25
RRP: $267.17
$240.96
inc GST
Save: $26.21
Code: MGT040002
Supplier Part: IV040002
Unit: CAR 25
The Burette with Needleless Luer Access has a 150mL capacity vented drip chamber at 60 drops/mL, with a floating safety shut off valve. There is a vented spike, roller regulator and a swabable needleless access site at one end. While the other has a 195cm tubing with an additional swabable valve and roller regulator, click clamp and a male luer lock connector with rotating collar.
Features & Benefits:
Vented Perforator
2 x Rigid Roller Regulator for accurate flow
2 x Swabable valves
150mL Burette
Floating safety shut off valve
Tubing with click clamp
Male luer lock with rotating collar
Peel open pouch
Single use only
Sterile EO
Latex free
Specifications:
Brand: mdevices®
Product: Burette Set 230cm Infusion Line (IV040002)
Sterile, Single-Use
Needleless access sites x2
Burette capacity: 150mL
Tubing length: 195cm
Tubing diameter: 3mm
Drip chamber: 60 drops/mL
Total length: 255cm
Priming volume: 21.0mL
Material: PVC, PE, ABS, PA, MBS
DEHP: Yes
Shelf Life: 5 Years
The product is MRI and CT suitable
Not to be used with blood or blood products
UOM: Carton of 25 pieces
Image is sample of product
Request further information on this product
Newsletter
Please enter your email address to subscribe to our newsletters.