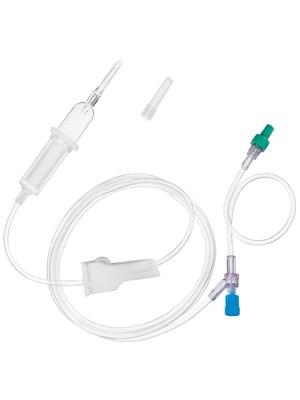 SANGOFIX RV T-PIECE SL 100's
RRP: $741.31
$653.40
inc GST
Save: $87.91
Code: BN405199
Supplier Part: 4051998
Unit: ctn
SANGOFIX RV T-PIECE SL 100's
Blood administration set- non-vented
Non-vented blood administration set for the administration of blood and blood components stored in flexible bags for gravity administration.
Advantages: Blood Filter 200µm / 11cm2
Blood filter with 11 cm2 surface area helps to prevent particulate contamination by retaining particles >200 μm and consequently helps to avoid transfusion of blood clots and cellular debris resulting from storage
During a laboratory test, Sangofix® with a filter surface of 11 cm2 was used to successively administer 10 erythrocyte concentrates while providing a higher flow rate than required by ISO 1135-4
Hanging filter basket arrangement for soft impingement of blood drops
Drip chamber:
Clear, non-vented piercing spike with blunt tip to prevent puncturing of bag
Fully transparent dome offers visibility for a constant visual monitoring of flow rate
Elastic pump chamber allows easy and quick set-up of fluid level
Roller clamp:
Integrated spike protection at roller clamp for disposal
Parking position to attach the patient connector to roller clamp
Spin-lock connector with PrimeStop
Protective PrimeStop cap stops blood leaks while priming the set and thus lowers the risk of blood exposure which could lead to microbiological contamination. Lined with a hydrophobic, bacteria-tight membrane, the protective cap stops fluid but allows air to go through. It prevents the escape of any solution or contaminants into the adjacent environment and is thus a closed system referring to NIOSH 2004 definition
Screw-tight SpinLock® connector helps to avoid accidental disconnection during transfusion which could lead to microbiological contamination
Rotating collar of Spin-Lock® connector prevents twisting of IV line during connection
Pressure resistant up to 400 mm Hg. (approx. 0.5 bar).
DEHP-free (Remark: Sangofix® sets with hand pump contain DEHP, ref. 4050192, 4050192H, 4050193, 4050193H)
Latex-free
Request further information on this product
Newsletter
Please enter your email address to subscribe to our newsletters.