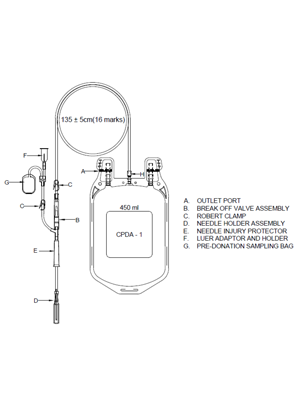 TERUMO® Single Blood Bag 450mL CPDA-1 - Pkt/8
Code: TE1CD456U0
Supplier Part: 8PB1CD456U0Y
Unit: PAC 8
Single Blood Bag (PB-1CD456U0Y) which contain 63ml CPDA-1 anticoagulant solution and is intended for the collection, storage and transfusion of 450ml human blood.
This blood bag system has following safety features:
Needle injury protector, Sampling arm and Pre-donation sampling bag.
Specifications:
Brand: TERUMO®
Product: Single Blood Bag 450mL CPDA-1 (PB1CD456U0Y)
*Packaging - The blood bags are packed in a primary package made of Polypropylene and then in a secondary package of Aluminum foil. These Aluminum foils are then packed in a shipping carton.
Material: PVC (DEHP)
Inner diameter of the tube: 2.95± 0.05 mm
Outer diameter of the tube: 4.4± 0.1 mm
Donor tube length: 135± 5cm (16 marks)
Phlebotomy needle: 16 gauge needle
Bag type: Primary bag
Volume: 450mL
UOM: Packet of 8 units
Image is sample of product
Request further information on this product
Newsletter
Please enter your email address to subscribe to our newsletters.