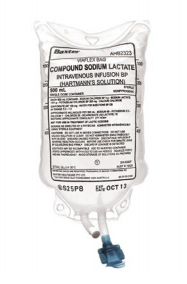 Compound Sodium Lactate Hartmanns Solution 500ml
RRP: $6.42
$6.36
inc GST
Save: $0.06
Code: BXAHB2323
Supplier Part: AHB2323
Unit: bag
Bulk Unit: 18 per ctn
Indications
The Hartmanns and modified HARTMANN's IV Infusion is indicated as a source of water and electrolytes.
It is also used in patients as a source of bicarbonate in the treatment of mild to moderate metabolic acidosis associated with dehydration or associated with potassium deficiency. These solutions are indicated as methods of intravenous drug delivery, if the drugs are compatible with the solutions.
Request further information on this product
Newsletter
Please enter your email address to subscribe to our newsletters.