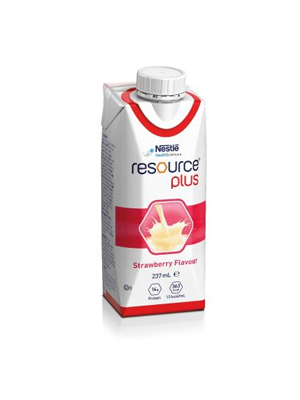 RESOURCE® Plus Nutritional Drink,Strawberry 237mL- Ctn/24
Code: NES7547
Supplier Part: 12458361
Unit: CAR 24
In Stock
RESOURCE® Plus Strawberry flavoured Nutritional Drink is a delicious calorically dense supplement. It is specifically formulated for medical use and treats patients with dietary adult malnutrition and other medical conditions with increased nutritional needs that cannot be met through diet modification alone.
Features & Benefits:
RESOURCE® Plus Strawberry flavoured Nutritional Drink provides 1.5 kcal/mL and contains high-quality protein and energy. It contains no artificial flavour and is suitable for the dietary management of adult malnutrition and oral or tube feed use.
Specifications:
Brand: Nestle Health Science

Product: RESOURCE® Plus Nutritional Drink(NES7547)

Feature: High Protein and Energy

Artificial colour: No artificial colour

Flavour: Strawberry

Size: 237mL

Unit of Measure: Carton of 24

Image is a sample of the product
Request further information on this product
Newsletter
Please enter your email address to subscribe to our newsletters.