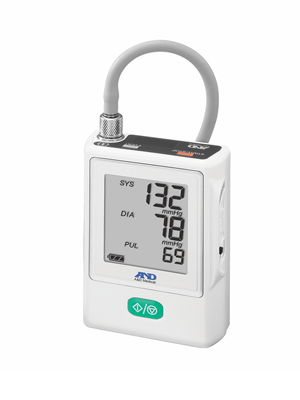 24 Hour Ambulatory Professional Blood Pressure Monitor - Each
Code: 200695
Supplier Part: 200695/TM-2441
Unit: EA
This 24 Hour Ambulatory Blood Pressure Monitor is lightweight with a compact design, that facilitates easy operation by patients and research participants. The new features allows for the detection of Irregular Heartbeat, as well as the standard Automated Blood Pressure measurements. It collects data on various external factors, such as temperature and pressure, that may influence blood pressure fluctuations, and it is recorded in the device with analysis software providing the precise waveform.
Unlike some of the rough plastic cuffs, this device has a soft, machine washable cloth, to ensure maximum comfort whilst the patient wears the device over long periods of time. It has a compact design and is lightweight, that makes it the smaller and lightest in this class. This ensures that a patient can easily wear it comfortably and discreetly for long periods of time.
This Ambulatory Professional Blood Pressure Monitor provides the Clinical with a complete and comprehensive multi- sensor monitoring solution through PatienView 360. It allows for the tracking and recording of additional patient centric information whist they are wearing the device, and can be integrated into an Electronic Patient Record System (EPR). By recording activity, temperature and air pressure, this monitor provides a more insightful view of the patient beyond just blood pressure recording the heart rate information, to build a better picture for better clinical decisions.
Specifications:
Brand: AND Medical
Product: 24 Hour Ambulatory Professional Blood Pressure Monitor (TM-2441)
Weight: 135g (without batteries)
Dimensions (cm): 66(W) x 24.5(H) x 95(D)
Accuracy: Blood Pressure +/-3mmHg ; Pulse +/-5%
Warranty: 3 years
Battery Power: 2 alkaline or Ni-MH AA batteries
Unit of Measurement: Each
Image is sample of product
Request further information on this product
Newsletter
Please enter your email address to subscribe to our newsletters.