Welch Allyn® ABPM 7100S with CardioPerfect WorkStation Software
RRP: $5,633.98
$2,418.90
Save: $3,215.08
Code: WL7100S
Supplier Part: ABPM-7100S
Unit: each
Dear Customers,
Please note:
From the 22/10/21 till 31/03/22 receive a additional FREE adult cuff (REUSE-11L-ABPM) which will be sent at the end of each month after your purchase of a complete Welch Allyn ABPM set (ABMP-7100s)
All customer purchases will also be entitled to a 2 hour FREE Clinical Educator Assistance.
Welch Allyn Ambulatory Blood Pressure Recorder including CardioPerfect WorkStation Software ABPM-7100S is an easy to use, 24-hour ambulatory blood pressure monitor. Designed to help avoid the effects of white coat hypertension, providing accurate sleep blood pressure readings, and has been tailored for drug therapy regimes for patient needs.
Features:
The ABPM-7100S Blood Pressure Recorder including CardioPerfect WorkStation Software, has unlimited protocols for programming measurement periods and inflation frequencies. Ability to upgrade to add Central BP and Pulse Wave Analysis.
The latex-free cuffs assist in the reduction of allergic reactions.
Helps Medical Health Professionals to confirm hypertension diagnoses and/or monitor the impact of hypertension treatments.
It's lightweight, compact and quiet to use for improved patient compliance. With oscillometric technology, a validated method of automatic NIBP measurement.
Auto feedback logic during inflation for optimum patient comfort.
Meets or exceeds the latest AAMI, EHS standards with BHS A/A Rating.
Includes Welch Allyn CardioPerfect® WorkStation software, a powerful software making data management a breeze. The CardioPerfect WorkStation software suite manages data from the ABPM 7100 and other Welch Allyn cardiopulmonary devices in the same way. This allows safety storage of data with paperless efficiency. With a simple interface, retrieval and analysing the data quickly with the option to send patient information to most EMR systems.
Specifications:
Brand: Welch Allyn®
Product: ABPM 7100S Ambulatory Blood Pressure Monitor
Contents: ABPM-7100 Ambulatory Blood Pressure Monitor includes monitor pouch, adult cuff, adult plus cuff, USB cable; 4 alkaline AA batteries (software included).
Unit of measure: Each (1xunit)
Image is sample of product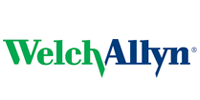 Request further information on this product