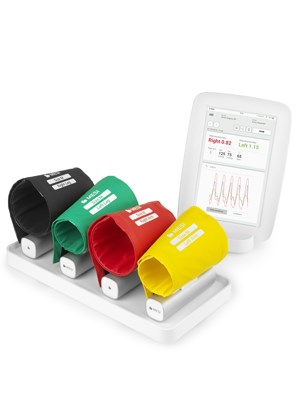 MESI mTABLET ABI Diagnostic System
RRP: $6,842.88
$6,599.94
inc GST
Save: $242.94
Code: MTABSYSABI
Supplier Part: 301-003009/MTABSYSABI
Unit: EA
In Stock
MESI mTABLET ABI Diagnostic System is a set of multiple devices and software to perform an automated wireless Ankle-Brachial Index system with its 3Cuff™ technology. It allows a simultaneous measurement of brachial and ankle pressures. It also incorporates PADsense™ algorithm for detection of severe Peripheral Arterial Disease. MESI mTABLET ABI Diagnostic Systemhas been evaluated by the United Kingdom National Health Service as the best ABI device – link to the study.
MESI mTABLET ABI Diagnostic System Includes:
Wireless ABI system with 3Cuff™ technology
mTABLET medical grade tablet
4-Port charging station
mRECORDS EHR
Access to mSTORE
ABI consultation
The measurement is quick and reliable with pulse waveforms shown directly on the screen. Cuffs are made from polyurethane leather on the outside and polyurethane Nylex on the inside, which makes them resistant to all standard cleaning agents.
Why MESI mTABLET ABI?
1-minute simultaneous measurement on all four extremities using SmartArm™ detection
PADsense™ algorithm with advanced review and alerts (for the detection of severe Peripheral Arterial Disease)
Pulse waveforms and oscillation graphs
3Cuff™ technology allowing simultaneous measurements
Quick and reliable ABI measurement with pulse waveform interpretation
Multiple cuff sizes and the ability to mix and match different cuff sizes in one measurement
Easy cuff disinfection
In one report you get ABI, pulse wave velocity, pulse wave forms, blood pressure, dual blood pressure, and heart rate.
Award-winning design and user-friendly interface
Patient history and trends already on the tablet
Clinical support apps with artificial intelligence integrated
Specifications:
Brand: MESI
Product: MESI mTABLET ABI Diagnostic System (MTABSYSABI)
Module: ABI
Access to MESI mRECORDS (web-based platform with patient history, trends, and advanced tools)
Connectivity: Bluetooth, WI-FI, NFC, smart card reader, barcode reader
Unit of measurement: Each
Image is a sample of product
Below are additional diagnostic modules that can be added to the MESI mTABLET ABI Diagnostic System. Please note, these modules are sold separately.
MESI mTABLET ECG Diagnostic Module
MESI mTABLET SpO2 Diagnostic Module
MESI mTABLET Blood Pressure Diagnostic Module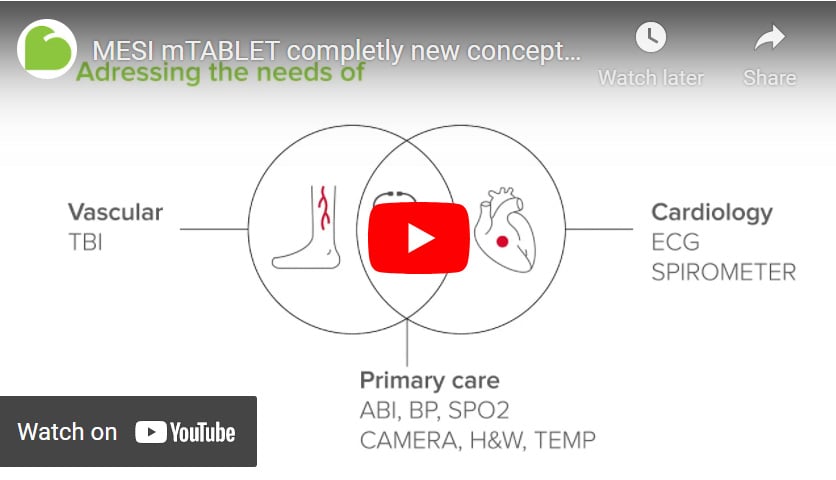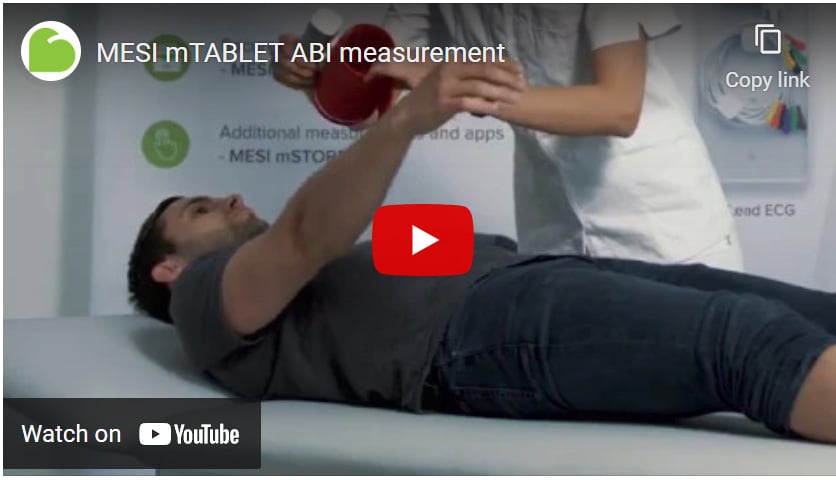 Request further information on this product
Newsletter
Please enter your email address to subscribe to our newsletters.